Cincinnati Catholic Schools Week Mass packs cathedral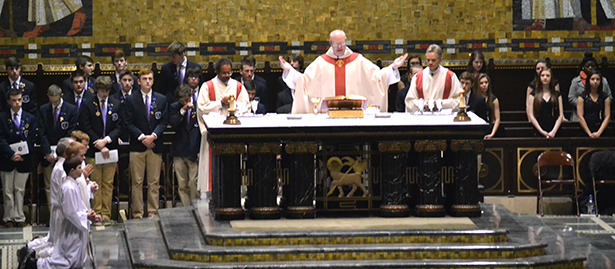 Staff Report
Representatives from Catholic schools around Cincinnati and the southern parts of the Archdiocese of Cincinnati gathered Tuesday at the Cathedral of St. Peter in Chains for the annual Catholic Schools Week Mass.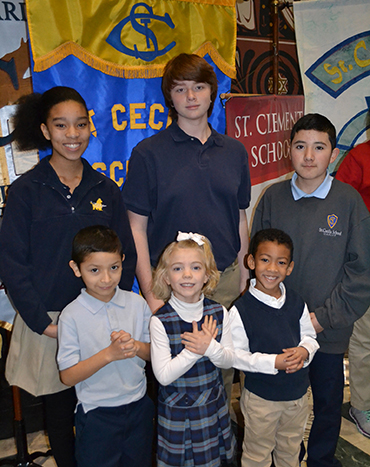 For a gallery of more than 60 photos from the 2015 Cincinnati Catholic Schools Week Mass, visit and like our Facebook page.
Students representing schools in attendance processed in, carrying banners with most wearing their school uniforms. After the processing, but before Mass began the assembly was welcomed by Jim Rigg, superintendent of Catholic schools for the Archdiocese of Cincinnati.
"In our Catholic schools, it is our students who are most important," Rigg said. "You students are the focus of our time, energy, passion and prayers. It is our greatest hope, that your Catholic education, with the leadership and support of your parents, will awaken Christ's call within you and will lead you to a life of love, service and faith. Our future depends upon you and how you take the lessons learned from our schools and use them to transform the world that desperately needs you."
Mass was celebrated by Father Dan  Schmitmeyer, vocations director for the Archdiocese of Cincinnati. During his homily, Father Schmitmeyer echoed the sentiments of Archbishop Dennis M. Schnurr's prayer for vocations, telling the students God has created all of them for a purpose. Namely, that purpose is to serve others and eventually to be with Him in heaven.
"In our first reading from the first letter of St. John, we are told to love each other, not in words only, but in the way we treat each other," Father Schmitmeyer said. "You see God made each and every one of us good. God loves each and every one of us…. He made each one of us for heaven.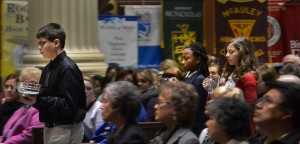 "In the Gospel we hear the disciples fighting amongst themselves, 'Who is the greatest?'" he said. "Jesus puts a small child in their midst and lets them know they are not to be served, but they are to serve others."
More stories from Catholic Schools Week 2015
Lighting the Way Still Bearing Fruit for Catholic Schools
CSW Profile: Lehman graduate Will Harrelson
CSW Profile: Carroll graduate Father Scott Wright 
 Posted Jan. 27, 2015