Cincinnati Legatus chapter marks 20 years of growth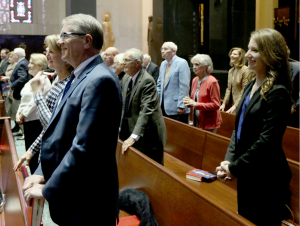 The Cincinnati Chapter of Legatus, an organization of Catholic business leaders, is looking forward to a growth spurt as it marks 20 years since it was chartered Dec. 4, 1996, according to president Scott Teepe.
"We've had a nice influx of 50-somethings," he said recently. "There's new energy in the room. I think we had more than 60 people at our last meeting. "
Legatus is a national organization of more than 4,000 Catholic CEOs, executives and their spouses. Locally. The chapter meets monthly for Mass, rosary, dinner and a speaker for a "date night" and includes forums and discussion groups, all designed to bring the message of Jesus Christ to the marketplace.
Legatus was established by Domino's Pizza founder Tom Monaghan, who also founded Ave Maria University and community in Florida. The chapter here was instigated by Archbishop Daniel Pilarczyk. The founding chaplain, Father James Bramlage, remains the spiritual guide for the group today.
Greg Otto is the vice president and membership chairman is Mike Huhn. The chapter coordinator is Marilyn Young. Cincinnati received Legatus' award for excellence in programming for 1999, and members Dr. John and Barbara Willke received the organization's Cardinal John O'Connor Pro-Life Award in 2003. William Burleigh and Jack Carew have served on the Legatus Board of Governors.
"We vet prospective members pretty hard," Teepe said, and "we've had some we wanted who didn't qualify."
Those interested can contact Teepe, Otto or Huhn, or find more information online at www.legatus.org.