Cincinnati seminarian learns dependence on Christ in India
November 1, 2012
By Steve Trosley
Does walking in the footsteps of Mother Theresa help prepare one for the rigors of pastoral life?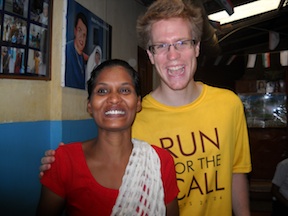 Ethan Moore, a third year theology student at the Athenaeum of Ohio/ Mount St Mary's Seminary thinks that he learned more about the love of Christ in Calcutta than he might have learned anywhere else.
Facing the challenges of bringing comfort and aid to the poor of Calcutta, Moore said, sometimes the only thing that makes sense is Christ.
Moore said he was surprised and pleased when the seminary allowed him to go to Calcutta for his required 10-week Clinical Pastoral Education internship. The internship puts the young men outside a normal parish setting.
The Missionaries of Charity, Moore said, provide a ministry to the poor, the sick and the dying.  He said upon arrival, he was pleased to learn that most of the people in the ministry and most of the clients spoke English, despite the native languages being Hindi and Bengali.
He said Seminary Dean Father Earl Fernandes, who is from India, warned him to be prepared for the noise. "I think every driver in India feels like he has to use his horn all of the time," he said.
"The Sisters put us into an orientation and we learned not to respond to begging. You can't take care of them all and if you help one on the street, you will be surrounded by too many to handle."
A breakfast of banana, bread and tea would fortify Moore for a morning of working with children with various physical and mental problems. Many of the children-beggars work for handlers who put chemicals in their eyes to make them more pitiful. In many cases the child ends up blind.
Moore said he would spend time on less busy days "filling in the gaps, doing laundry — wringing it by hand and putting it on the roof to dry — and household chores."
He admired the Sister in charge. "She was like a drill master, loving them in the way they needed most, even if it required some firm scolding," Moore said.
In the afternoon, Moore said he worked with young boys at another house. He especially enjoyed working with a boy who enjoyed singing John Denver songs. 'We would sing 'Country Road,' together. He really was a big John Denver fan." Individual tutoring might require coloring or simple math.
Moore said, "It was a challenge coming back to this reality."
He called Calcutta the "Olympics of do-gooders. People come there to help from everywhere," he said.
He recounts the story of a young repeat volunteer from Sweden who said when she returned home, the thing she missed most was being uncomfortable. He said most of the volunteers in Calcutta come there "with a openness which leads to some intense and friendly conversations."  He became close with other seminarians, two from Canada, and said most of what he learned could be applied to the parish work that will be his future.
"It really all comes down to Christ's love and depending on Christ," he said.
He helped one group of men who started a Theology of the Body ministry and he was able to get them materials they needed for their leadership training classes. He is able to continue to help them through the Ruah Woods ministry here, he said.
What he saw in India, he said, made poverty blossom into better understanding what work the Lord has for us all to do.