Class of 2017 at Chaminade Julienne Celebrates Commencement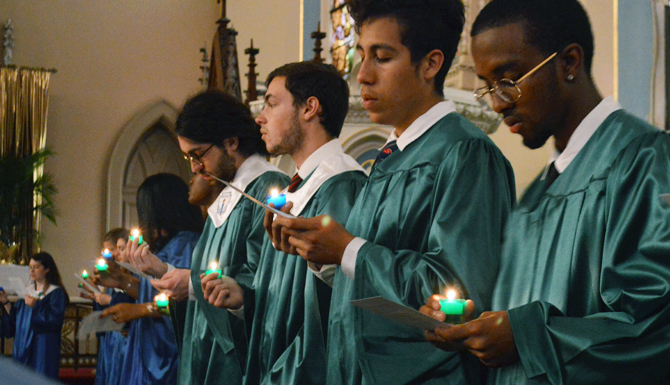 Chaminade Julienne Catholic High School in Dayton Ohio, graduated 150 students from the Class of 2017 on Monday, May 22 at 7 p.m. at the University of Dayton arena.
138 students had reported that they were going to a college or university next school year.
Additionally, two students will enter their school's Air Force ROTC program, one member will attend the United States Air Force Academy and one member will enlist in the United States Air Force. 111 students received nearly $21 million dollars in scholarships for their studies.
Kelly Pleiman, (St. Christopher, University of Dayton) was named the top of her class. Seven students were named commended students by the National Merit Scholarship Program (Christian Hemsath, Noah Meyer, Marcie Meyers, Noah Mussin Phillips, Elizabeth Ruetschle, Cole Wagner and Michael Zopff) with Zopff being named a National Merit Semifinalist and Hemsath, Meyer, and Meyers being named National Merit Finalists and winners.
Three seniors were also recognized by the CJ faculty and staff with annual awards that best exemplify the three pillars of the school's mission:
For his commitment to faith, dedication to learning, and demonstration of school and family spirit, Jack Dalton received the Founder's Award;
Noah Meyer received the Michael D. Trainor Award, named in honor of Chaminade Julienne's principal from 1999-2004, which is given to a student who has regularly demonstrated intellectual curiosity;
For best exemplifying the Chaminade Julienne spirit, Clarence Reed received the Gerard "Fuzzy" Faust Award, named in honor of the legendary CJ teacher and coach who served from 1933-1980.
Additional accomplishments from the Class of 2017 include:
More than 10,000 hours of community service during the Class of 2017's four years at Chaminade Julienne, including Andrew Holmes who contributed 570 hours in his four years
Abby Arestides and Duncan Burke receiving the OHSAA Scholar-Athlete Scholarship Award
Alexis Jackson and Jack Dalton receiving OHSAA Archie Griffin Sportsmanship Award
Christian Montague and Monica Behrens receiving the OHSAA Courageous Student Award
Megan Stefan and Noah Meyer receiving the OHSAA State Sportsmanship, Ethics and Integrity Award
26 four-year varsity letter winners
59 seniors who were members of the National Honor Society
40 seniors who were Presidential Academic Award recipients
8 seniors who were Presidential Achievement Award recipients
and, 18 seniors who remained on the honor roll for 15 consecutive quarters.