Clyde Richard finds Catholic faith in God's time
By Eileen Connelly, OSU
For Clyde Richard, the seed of faith was planted long ago and has grown in God's time.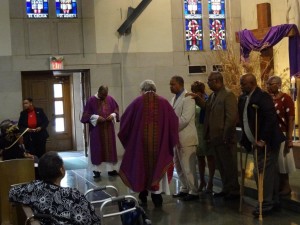 Richard was raised in Cincinnati's West End, one of six children. His parents believed in God, but weren't churchgoers. He recalls being drawn to the Catholic faith early in life when he attended the former St. Henry School. "I wanted to become Catholic then, but my mother didn't feel I was ready," he said.
Looking back now, Richard realizes that was indeed the case and it wasn't yet God's time for him. He went on to attend Withrow High School and Kentucky State University, earning a bachelor's degree in education. He had successful careers in both property management and workforce development. Married to wife, Betty, for 40 years, the couple raised two sons together in the Catholic faith.
Over the years, Richard attended Mass at the former St. Agnes Parish in Bond Hill, mostly on Easter, Christmas and "sometimes in between." He began attending regularly after the Church of the Resurrection was established in July 2010.
"That's when the transformation occurred," Richard explained. "I've always believed in God, but never really understood what part church played in my life. I had a very narrow view of what church is until I got to know people and got involved."
"It doesn't happen overnight," he added, "but you develop an understanding little by little and are drawn in more and more. I've realized it is about building a relationship with God, being in community with others and giving back and helping others."
A particularly telling moment for Richard was the amputation of his right leg below the knee after an infection two and half years ago. "I also had open heart surgery and while I was in the hospital, I had a long talk with God," he said. "I told Him 'you don't have to do so much to get my attention. All you have to do is tell me what it is you want me to do'. I know that God likes to surprise and challenge us, though."
With God's urging, Richard knew it was finally time to go through the RCIA process, for him both an educational and spiritually enriching experience. "I've tried to gain as much knowledge as I can," he said. "I've especially enjoyed learning about Scripture and definitely have a better sense of my relationship with God.
He said his wife, who converted to Catholicism in the fifth grade, never pushed him to take the next step and "let it be my decision."
"It had to be God's will for him," Betty Richard said.
Richard's words of wisdom for others on the journey: "You have to be ready and God has to be ready."
Deacon Royce Winters, who serves at the Church of the Resurrection and has known the Richard family for more than 25 years, said, "Clyde was always one those who lived and worshiped among us but never used words to express the faith that was deep inside of him. During the 16 months that he has been in formation to receive the sacraments of initiation (baptism, confirmation and Eucharist), he and the other elect have affirmed my belief that the seed of faith is planted deep within us, even when we don't acknowledge it publicly. During this journey of faith, Clyde has been able to express the struggle of his personal journey, but also has given voice to the God who had been calling him by name throughout his adult life. He has said over and over again, "the time is now for me act out what I had already begun to know, that Jesus is the Lord of my life."