Coaches Mack and Cronin Encourage CISE Volunteers
September 5, 2012
Chris Mack, Xavier men's basketball coach and Mick Cronin, UC men's basketball coach addressed a crowd of over 80 volunteers at the CISE Young Executives Kick-off Party held in the courtyard garden of St. Francis Seraph Friary in Over-the-Rhine on Thursday, August 30, 2012.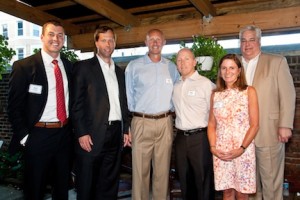 Coaches Mack and Cronin spoke to the group on the value of a Catholic education and the impact the volunteers' efforts are having on the lives and futures of so many inner-city children.
Coach Cronin motivated the group saying, "By far, the most fulfilling thing you can ever do is to help somebody else. What you are doing here is helping young people who cannot help themselves. The only way these kids are getting to the CISE schools is with the help of everyone right here who is staying motivated to continue the CISE mission."
Coach Mack, summed up his talk with a sincere thank you to the Young Exec group and CISE when he said, "Know that what you are doing is not only important for the kids right here in the city of Cincinnati, but also for our community at large and for that I am thankful. "
The CISE Young Executives, led by board members Eric Schuermann and Matt Champa, is composed of 22 teams of young business leaders who call on others in the business community to provide continuing support for Catholic Inner-city Schools Education Fund (CISE) Since their inception in 1999, the Young Executive group has raised over $8.2 million to benefit the CISE schools and their students.
The Young Exec group is part of a larger fundraising effort. The goal of the 2012 CISE campaign, led by Mr. J. Wickliffe (Wick) Ach, is to raise $2,500,000 in unrestricted funds to help support nine Catholic elementary schools in Cincinnati's urban core during the 2012-2013 school year. The schools are St. Francis Seraph in Over-the-Rhine, St. Francis de Sales in East Walnut Hills, St. Boniface in Northside, St. Joseph in the West End, St. Lawrence in Price Hill, Corryville Catholic, Resurrection in Price Hill, Holy Family in East Price Hill, and Prince of Peace in Madisonville.  There are nearly 1,800 students enrolled in the CISE Schools.
Information about CISE and video clips from the event can be found on the CISE website at www.cisefund.org.