Corpus Christi Fryers serve up fish, fellowship and fun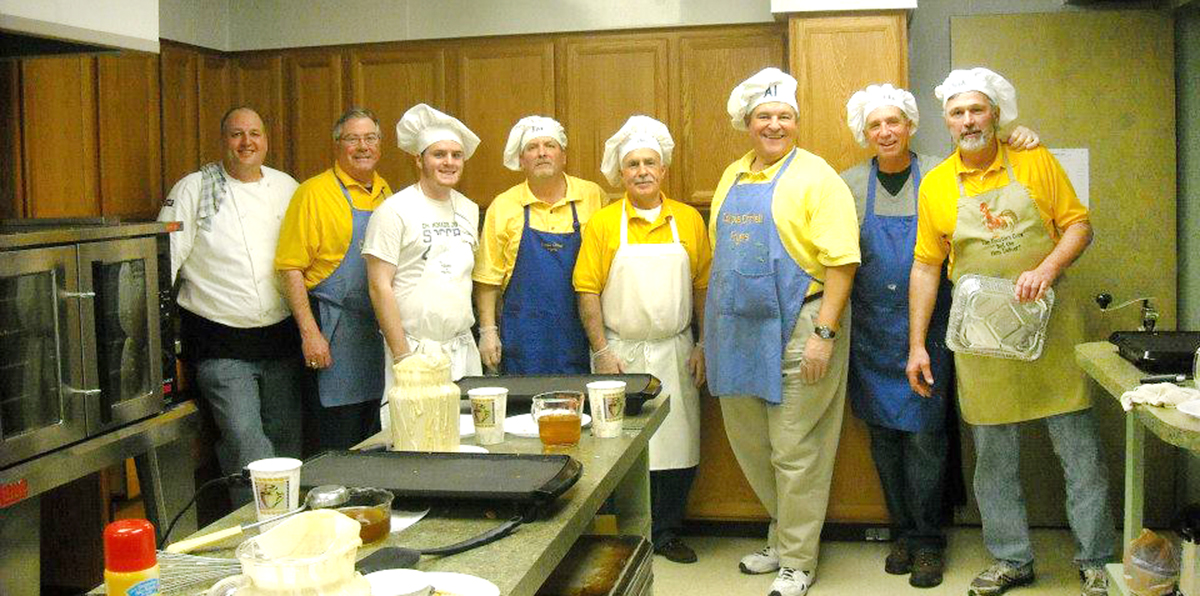 There's nothing quite like a Lenten fish fry to foster Catholic fellowship.
Since 1990, the Corpus Christi Fryers have been serving up delicious fish with a fun and faith filled spirit that has earned them a loyal following in the Dayton area.
CLICK HERE for The Catholic Telegraph's Fish Fry Guide
The group was originally formed by a group of Corpus Christi School parents looking for a way to fund an athletic association and purchase equipment and uniforms, said Chuck Szabo, a founding member.
"Basically we all got together and said, 'let's have a fish fry," he explained. "Things just sort of evolved from there."
For the first 10 years, the Fryers typically did a couple of fish fries annually, said Szabo, dubbed "Kingfish" for his role as the group's spokesman. As word spread about the Fryers, they began traveling to different parishes and events and recognized the need to buy their own equipment. They charge just a nominal fee to hold a fish fry and for the food used.
The response to the Fryers' efforts has been "great," Szabo said. "We've really developed quite a quite following. People ask for us."
"The number one thing we've always said is to have fun," he said. "The wonderful thing about fish fries is that they bring people together. It's an opportunity to meet new people, see others you haven't for a while, and really build community. It's one of those things that make it really fun to be Catholic."
During their fish fries, Jim Rougier, head of kitchen, is known for cranking up the tunes on the speaker system as the Fryers are cooking. They use only Icelandic cod and a basic meal breading with no spices.
"It must packaged in Iceland, " Szabo stressed. "The colder the water, the better the fish."
Some organizations dip the fish in batter, then bread it," he added. "That way all you taste is the breading. The way we do it, what you taste is the fish."
The Fryers also make their own coleslaw and baked beans, and, if requested, macaroni and cheese.
"At a lot of other fish fries, they buy everything prepackaged. We take pride in doing everything from scratch. That's what sets us apart."
What also distinguishes the Fryers is that the group has grown beyond traditional fish fries to charitable efforts and special events. They often do a live auction, raffling off their services for a backyard fish fry for up to 30 people. The proceeds benefit various charitable causes. The Fryers have catered a fundraiser at Chaminade Julienne High School, their largest event, serving between 800 lbs. of fish to a crowd of 1,400-1,500. They have also donned white shirts, bow ties and black aprons to cater a wedding reception for a couple who met at a fish fry.
"We have our own crew. We set up, we prepare good food and we clean up. That's what people like about us," said Szabo.
In addition to Szabo and Rougier, the group includes Charlie Helldoerfer, Ron Finke, George Eaton, and Al Beach, all original Fryers, along with  John Keferl, Matt Jackson, Bill Evans, and Father Jim Schutte. "Fryettes" Ann Szabo and Ann Rougier  help out, too, as do young Fryers in Training Tim Szabo and Zac Rougier. Faithful subs Bob Menker and Steve Stockelman also assist as needed.
The Fryers have a busy schedule this Lent, including their big Corpus Christi Fish Fry on March 5, from 6-11 p.m., at the Corpus Christi Church/DECA Activity Center, 527 Forest Avenue, Dayton.
What keeps the Fryers frying? "We really like each other," Szabo said. " We've been through a lot together. And, we all love what we're doing. We know that we're helping the parishes and doing good with the our other fundraisers for certain causes. It's all about our camaraderie and friendship."
This story first appeared in the March 2016 print edition of The Catholic Telegraph.