Covington bishop cautions faithful about attending SSPX Walton, Ky. church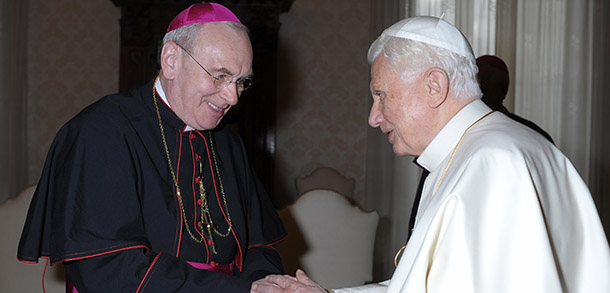 By John Stegeman
The Catholic Telegraph
COVINGTON, Ky. — By all outward appearances, Our Lady of the Assumption church in Walton, Ky. looks like any other Catholic church building. The inside may even look familiar to any practicing Catholic but there is one important clarification — it is generally morally illicit for a Catholic to participate in that parish's Masses.
Our Lady of the Assumption, which opened in 2010, describes itself on its website as a Roman Catholic Church, but the church is actually a chapel of the Society of St. Pius X (SSPX), a breakaway organization not in communion with the Holy See in Rome and thus not a canonically recognized entity.
Bishop of Covington Roger J. Foys addressed a letter to the faithful of his diocese in Friday's edition of The Messenger, explaining SSPX and the dangers of becoming involved with that community.
"It is morally illicit (unlawful) for the Faithful to participate in Masses of the Society of St. Pius X unless they are legitimately impeded from participating in a Mass celebrated by a Catholic priest in good standing in the Church (cf. Code of Canon Law, canon 844.2)," Bishop Foys wrote. "Participation in such Masses and in the administration of the sacraments at the chapels of the Society of St. Pius X can, over a period of time, lead to a schismatic habit of thought and heart as one slowly imbibes a mentality which separates itself from the Magisterium of the Holy Roman Catholic Church."
SSPX was created after the Second Vatican Council and its founder, Archbishop Marcel Lefebvre, and other involved bishops were excommunicated in 1988 for ordaining bishops despite the express direction of Blessed Pope John Paul II. Though their personal excommunications were later lifted, Pope Emeritus Benedict XVI, while still pope, had ruled that SSPX has "no canonical status in the Church and its ministers cannot legitimately exercise any ministry."
"Unfortunately, some believed and some were led to believe that when the excommunication of the four bishops of the Society of St. Pius X was lifted, the Society of St. Pius X was reconciled to the Roman Catholic Church," Bishop Foys wrote. "This is not – nor has ever been – the case."
SSPX draws many traditionalist Catholics because its priests celebrate mass only in the Extraordinary Form, which is the Catholic Church's terminology for the Latin Mass. SSPX rejects that terminology, claiming the Latin Mass remains the liturgical norm regardless of the widespread implementation of the current Mass of Paul VI (the Ordinary Form of the Mass, celebrated in the vernacular). Nevertheless, as Bishop Foys writes in his letter, the desire to worship at a Latin or "Tridentine" Mass is not a legitimate reason to attend an SSPX Mass.
"The fact of not being able to assist at the celebration of the "Tridentine" Mass is not considered a sufficient motive for attending Masses offered by priests of the Society of St. Pius X," Foys wrote.
In 2007 Pope Benedict made the traditional Latin Mass more widely accessible and it is now offered licitly in several area parishes. In Cincinnati, Mass in the Extraordinary Form is celebrated at 11:30 a.m. every Sunday at Sacred Heart Church in Camp Washington. Old St. Mary's celebrates it on weekdays at 7:15 a.m. In Dayton, Ohio Holy Family parish celebrates Mass exclusively in the Extraordinary Form.
Foy's letter notes that the Latin Mass is celebrated licitly and lawfully at All Saints Church in Walton, Ky. on Sundays at 9:15 a.m. and on first Saturdays at 9:15 a.m. and at St. Bernard Church in Dayton, Ky. on weekdays at 6:30 a.m. and on Sundays at 8 a.m.
The Archdiocese of Cincinnati is not without its own churches not in communion, including St. Gertrude the Great in Sharonville and Immaculate Conception in Norwood. Previously St. Pius X in Northside was but it is now a bakery.
St. Gertrude the Great's pastor is a former member of the SSPX. Immaculate Conception is a Society of St. Pius V community. SSPV broke off from SSPX in 1983. While both have historical ties to SSPX, they are not currently affiliated. Both Cincinnati schismatic churches, as well as Our Lady of the Assumption in Kentucky, have associated schools.
"They are all separate from each other, as well as not being in communion with the Pope through the Archdiocese of Cincinnati," Archdiocese of Cincinnati spokesman Dan Andriacco said. "There's more than just the Traditional Latin Mass that makes these parishes different. In general – not meaning to speak for them – schismatic parishes (often calling themselves traditional) reject the teachings of the Second Vatican Council and sometimes also the legitimacy of any pope since Pius XII."
Megan Walsh contributed to this story
The complete text of Bishop Foy's letter is included below.
To the Faithful of the Diocese of Covington: 

There has been established within the jurisdiction of the Diocese of Covington, specifically in Walton, Kentucky, a church whose name is Our Lady of the Assumption Church. This entity is a chapel of the Society of St. Pius X. The church and the society that sponsors it have created much confusion and misunderstanding in the Diocese of Covington. I have personally been asked many questions about both. It is therefore necessary and it falls upon me to clarify the situation for the Faithful of the Diocese of Covington so as to avoid further confusion.

The Society of St. Pius X was formed after the Second Vatican Council by Archbishop Marcel Lefebvre. On 30 June 1988 he proceeded to consecrate bishops for the Society of St. Pius X against the direction of His Holiness Blessed Pope John Paul II. Archbishop Lefebvre and the four men consecrated bishops for the Society of St. Pius X were excommunicated. Our Emeritus Holy Father Benedict XVI lifted that excommunication during his pontificate. When he did so, he stated: "Doctrinal questions obviously remain and until they are clarified the Society has no canonical status in the Church and its ministers cannot legitimately exercise any ministry." Concretely, this means the priests of the Society of St. Pius X are suspended (cf. Code of Canon Law, canon 265). Please note, the Sacraments of Penance (Confession) and Matrimony, administered by priests of the Society of St. Pius X, are invalid (cf. Code of Canon Law, canon 966 and canons 1108 and 1109). Unfortunately, some believed and some were led to believe that when the excommunication of the four bishops of the Society of St. Pius X was lifted, the Society of St. Pius X was reconciled to the Roman Catholic Church. This is not – nor has ever been – the case.

It is morally illicit (unlawful) for the Faithful to participate in Masses of the Society of St. Pius X unless they are legitimately impeded from participating in a Mass celebrated by a Catholic priest in good standing in the Church (cf. Code of Canon Law, canon 844.2). The fact of not being able to assist at the celebration of the "Tridentine" Mass is not considered a sufficient motive for attending Masses offered by priests of the Society of St. Pius X. Participation in such Masses and in the administration of the sacraments at the chapels of the Society of St. Pius X can, over a period of time, lead to a schismatic habit of thought and heart as one slowly imbibes a mentality which separates itself from the Magisterium of the Holy Roman Catholic Church. For those faithful who desire the Holy Sacrifice of the Mass according to the Extraordinary Form ("Tridentine" Mass) they will find such valid and lawful Masses celebrated at All Saints Church in Walton, KY, every Sunday at 9:15 a.m. and every First Saturday at 9:15 a.m. Masses according to the Extraordinary Form are also celebrated daily at St. Bernard Church in Dayton, KY at 6:30 a.m. and on Sundays at 8 a.m.

The doctrinal questions that remain unresolved between the Roman Catholic Church and the Society of St. Pius X are not insignificant. A special Pontifical Commission, Ecclesia Dei, under the auspices of the Congregation for the Doctrine of the Faith, continues to work toward needed resolution. Until that is achieved, the lack of full communion of the Society of St. Pius X with the Roman Catholic Church and our Holy Father the Pope continues to wound the unity with which our Lord and Savior Jesus Christ endowed His mystical body, the Church. Therefore, let us all pray for the Church that her unity may be healed for the glory of God and the salvation of souls.

Given at the Chancery of the Diocese of Covington on this the 23 Day of May in the Year of Our Lord 2013. 
Most Reverend Roger J. Foys, D.D.
Bishop of Covington