Dayton artist compelled to 'work for the Lord'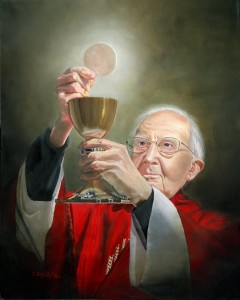 A Dayton artist has turned her talents into a way to evangelize.
In recent years, Cecilia Brendel, owner of the Olde Masters Galleria in Centerville, has been inspired to paint sacred art, often using family members, friends and acquaintances as her models.
Originally from St. Louis, Brendel's art education was in technical illustration and graphic arts, working for companies such as the University of Notre Dame and the Florida Institute of Technology. Her early illustrating career lead her into work designing book covers, illustrating children's books and illustrating technical articles and other publications. Brendel's technical skills took a turn when Broadway theater asked her to paint scenery for them. She painted sets for top shows such as "Phantom of the Opera," "Jekyll and Hyde," and "Wizard of Oz," to name a few.
The technical field eventually evolved into the fine arts, but not without some reluctance on Brendel's part. Trying her hand as a professional artist was intimidating, Brendel acknowledged, so she turned to God for guidance. "I prayed and asked the Lord to intervene, to bring color into my life. Then, I practiced and just kept painting and praying," she said.
To develop her skills, Brendel studied with a few master artists, such as Alexei Antonov, Cesar Santos, Douglas Flynt and Virgil Elliott. This strengthened her skills to help produce pieces for several private and industrial clients worldwide, including the Grande Hotel Sablon in Brugge, Belgium; St Joseph Hospital in South Bend, Ind.; St. Boniface Church, Piqua; Church of the Incarnation, Centerville; and Wright State University.
Largely through word of mouth, people soon learned of Brendel's work and began approaching her for lessons. She found her current studio in 2012, and was told by her spiritual director Father Angelo Carserta that the Blessed Mother led her there.
Brendel's religious series includes an especially touching oil on canvas of St. Pope John Paul II kissing a baby, along with images of the Blessed Mother and Child, Jesus with a crown of thorns, Saints Philip Neri, Peregrine, and a very young Therese of Lisieux.
In addition to her interest in religious art, Brendel especially enjoys painting portraits. "It's a wonderful opportunity to learn about people," she said. "When you buy a piece of art on commission, it's a gift that will endure forever."
Landscapes are also a favorite, Brendel added, "because they put in you the actual place and bring you peace. It's like therapy with God."
Reflecting on her initial hesitation to paint, Brendel now says, "As much I didn't want to paint, God put me in this position, and I'm very grateful. It's my way of evangelizing. I'm compelled to work for the Lord. It's just amazing. He knows what I need."
Brendel hopes to take part in the Liturgical Arts and Professional Trade Show, tentatively scheduled for the fall of 2017 in Washington, D.C., or Baltimore, said organizer Hugh McNichol. It will include an artisans trade show, as well as exhibition spaces for artists. The collection, "The Faces of Christ," owned by Steen Heidemann, will be part of the primary exhibit with participating artists in attendance also providing works for display.
For more information about Brendel's work, visit http://www.ceciliabrendel.com.