Dayton Catholic Men's Conference a success
July 31, 2012
DAYTON — Father Benedict O'Cinnsealeigh, president/rector of Mount St. Mary's Seminary, was the keynote and afternoon lead speaker at the July 7 Dayton Area Catholic Men's Conference. The conference drew 119 participants.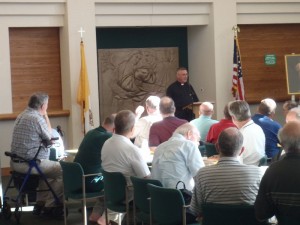 Other speakers included Father Ken Summers, who was involved with Answer the Call for 18 years and said the opening prayer and blessing. Henry Cordonnier spoke in the morning following Father O'Cinnsealeigh, and Jim Gruden spoke in the afternoon following Father O'Cinnsealeigh.
Frank Leon, one of the organizers, said that after each of the four talks the men had small group discussions about the message they just received. Radio Maria had an information table in the back of the conference hall and gave each of the men a CD.
Also, during the conference there was exposition of the Blessed Sacrament in the chapel adjoining the conference area. The attendees were able to pray in front of the Blessed Sacrament during breaks and lunchtime. The group had two (non-attendee volunteers) present at all times praying in front of the Blessed Sacrament for the success of the conference so that the Holy Spirit would open the hearts and minds of the men to the messages they were hearing, Leon said.
Leon said he had been working on the conference with the late Franciscan Father Dan Havron for four months. "On April 26, we exchanged e-mail messages about getting together to make final decisions," Leon explained. "Father Dan said that he was finishing up a retreat and then going to visit his mom in Michigan and that we would meet May 11 upon his return. Two days later,  Father Dan suffered a massive heart attack and died. Not only did I lose a dear friend, but I lost our conference leader as well."
Someone suggested that he contact Father O'Cinnsealeigh to see if he would step in and help.
"I phoned Father Ben, whom I had never met, and asked if he would step in on such short notice. Father Ben asked the date and then asked me to wait while he checked his schedule. When he got back on the phone he told me that he had two Masses previously scheduled for that day but for some unknown reason they had been crossed out so, yes, he would help us," Leon said.
"Even working with such short preparation time and in addition to his responsibilities as the head of Mount St. Mary's Seminary and the Athenaeum, Father Ben's two talks at the Conference were fantastic," Leon said. "By the way, someone told me they thought it was Father Dan who reached down and cancelled those two Masses that were previously scheduled for Father Ben," Leon said.
Leon said that based on the feedback from the men who attended, the July 7 conference was a success and said he is looking forward to seeing "If the Lord wants us to make it an annual event."