De Paul Cristo Rey only Cincinnati School to receive Innovation Award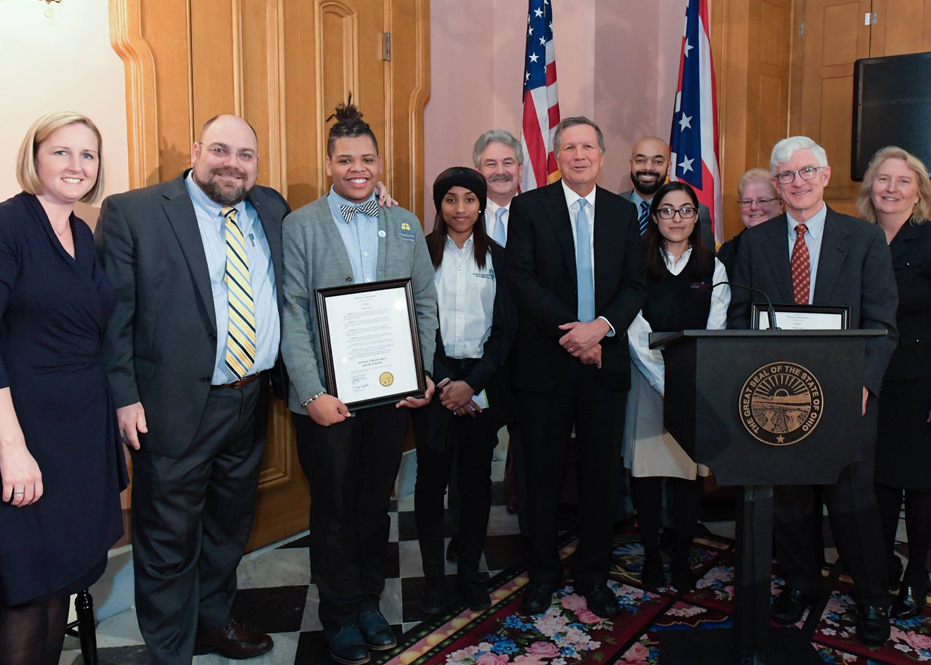 From Ohio Governor Kasich who called the Cristo Rey Model "The Coolest Thing
Calling the Cristo Rey model, "the coolest thing," Ohio Governor John Kasich honored DePaul Cristo Rey High School and the two other Ohio Cristo Rey schools with the Governor's School Innovation Award. DePaul Cristo Rey was recognized, along with Cristo Rey Columbus and Saint Martin de Porres (Cristo Rey Cleveland), in a ceremony at the Ohio Statehouse on Tuesday, January 24.
There were seven schools and districts statewide recognized by the Governor; DePaul Cristo Rey was the only Cincinnati-area school honored.
 In recognizing the Cristo Rey schools, Governor John Kasich called the urban education model of college-prep academics and Corporate Work Study, "the coolest thing." He said that all the schools recognized "take risks" and "prepare students for the knowledge economy." He said that he hopes these schools inspire "education envy" across the state.
At the awards ceremony, a student from each Ohio Cristo Rey school helped explain the Cristo Rey model and answer questions from the Governor. DPCR senior Joseph Whittle '17 said, "Our school is in its sixth year of operation and all three of our first graduating classes, including mine, have achieved 100 percent college acceptance. I have applied and been accepted to 15 universities; I will be the first in my family to go to college, in addition I will graduate from high school with four years of corporate work experience. This year I work at Wellington Orthopedic and Sports Medicine – Mercy, getting exposure and experience for my future career as a pediatric surgical oncologist."
DePaul Cristo Rey, sponsored by the Sisters of Charity of Cincinnati, offers a nationally recognized, dual-focus education model to students whose families can't afford other private, college preparatory programs. This education model, not available at any other local high school, partners challenging college preparatory academics with a Corporate Work Study Program (CWSP). It is one of 32 Catholic high schools in the nationwide Cristo Rey Network® which serves 10,900 young people.