DePaul Cristo Rey celebrates 100 percent college acceptance for seniors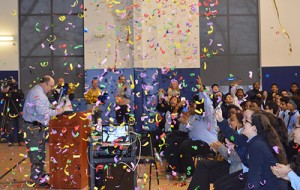 For the second year in a row DePaul Cristo Rey High School in Cincinnati has announced that 100 percent of its senior class has been accepted to college.
It's only February and already DePaul Cristo Rey's Class of 2016 has hit a milestone – all seniors have been accepted to college! After walking through a tunnel of cheering classmates, teachers, staff and Board members into the gymnasium with confetti flying, the seniors were recognized in a pep rally style celebration in front of the entire school on February 2.
There are 39 seniors in the Class of 2016. All have been accepted to at least one college; most have been accepted to multiple schools and at this time they have earned almost $1.7 million in merit-based scholarship money. And the acceptance letters and scholarship awards keep coming! The Class of 2016 will graduate on May 31 at Mount St. Joseph University.
The celebration also marked the fact that DPCR is now two for two with both of its first graduating classes achieving the schoolwide and Cristo Rey Network goal of 100% college acceptance.
DePaul Cristo Rey, sponsored by the Sisters of Charity of Cincinnati, offers a nationally recognized, dual-focus education model to students whose families can't afford other private, college preparatory programs. This education model, not available at any other local high school, partners challenging college preparatory academics with a Corporate Work Study Program (CWSP). It is one of 30 Catholic schools in the nationwide Cristo Rey Network which serves 9,950 young people.
Story submitted by DePaul Cristo Rey High School