Developing young students' full potential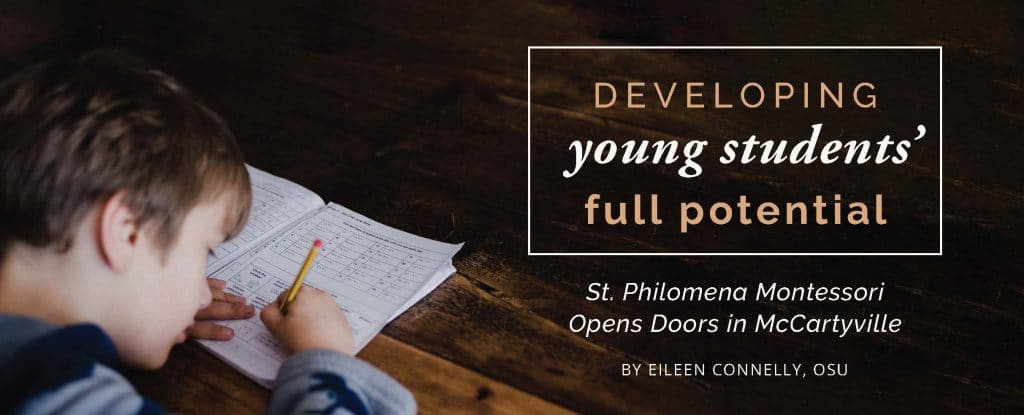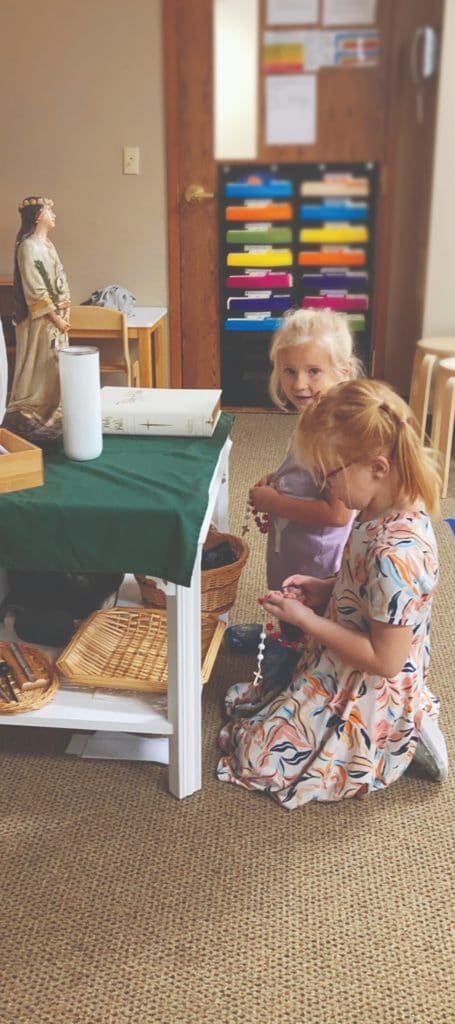 Simone Grace's cheerful morning chatter about her activities and friends warms Luke Slonkosky's heart daily as he drives his four-year old daughter to preschool at St. Philomena Montessori, a new school in the Archdiocese of Cincinnati dedicated on the saint's feast day, Aug. 11.
Members at Sacred Heart of Jesus in McCartyville, Slonkosky and his wife, Laura, were among the parents who, over several years, approached the pastor, Father Steve Mondiek, expressing the need for a parish pre- school. Father Mondiek took their requests to heart and prayer – the latter specifically to St. Philomena.
"I had just hired Carrie Winhoven as director of religious education and knew she had a background in Montessori education and was impressed by the method, so I talked it over with her and she thought it might work here," Father Mondiek said. "We both went down to Cincinnati to check out a Montessori day school, and after discussing it with Carrie and the Pastoral Council, we decided to try it out. We knew a Catholic Montessori school would be unique, serve the people and provide the best Catholic education possible." Their vision became reality when Archbishop Dennis Schnurr approved plans for the school, and dedicated parishioners collaborated to make the necessary renovations and equip the classroom.
Enabling each child to develop their full potential as God created them is the school's mission, said now- principal Winhoven. The Catechesis of the Good Shepherd and Montessori Method are the guiding principles and curriculum that make this possible. The Catholic component includes daily prayer, weekly Mass and time spent in the parish's Good Shepherd Atrium. Children also gather weekly in the St. Philomena Chapel to pray the saint's chaplet and enjoy time in their classroom's Queen of Peace corner watched over by a large statue of Mary.
Twenty-two children attend St. Philomena Montessori, in a morning or afternoon half-day preschool for ages three to five, or an all-day kindergarten for ages five and six. Next year's plans add a Montessori toddler room for little ones 18 months to age three.
"The children make choices about their work and practice using their will, which is one of the greatest gifts God gave us," said Winhoven. "Children like meaningful work and they're learning how to use it appropriately. They're learning grace and courtesy, everything from sharing snacks to activities that build coordination, concentration and independence."
In their multi-age classroom, children developed a sense of community, she said, older students helping younger ones. "The older child gets to be the leader and a helper. They learn to take care of each other and their classroom."
Faith is, of course, key, Winhoven said. "Children are learning to pray and developing a relationship with Jesus. That's the best gift we can give them," she said. "I've seen children go over to the Queen of Peace corner and literally hug the statue of Mary, Their faith just becomes part of them."
Teacher's Assistant Sonja Richard said a major benefit of Montessori education is that it enables children to grow at their own pace.
"Children are growing into their bodies and minds, so we teach them to stop, think about things and talk about them," said Richard.
"We saw immediate growth in our daughter's confidence and independence, anything that shows the practical side of life," Slonkosky said. "She still makes all the mistakes of a four year old, but keeps her confidence. We're thrilled with what she has accomplished and with the deep connection she's establishing with our faith. She points out her friends at Mass, waves to them and prays for them. She's a good witness for us."
For more information about St. Philomena Montessori visit to spmohio.org.
This article appeared in the February 2022 edition of The Catholic Telegraph Magazine. For your complimentary subscription, click here.