Did you Know? A look at the University of Dayton
by Gail Finke
The University of Dayton's Christmas on Campus may be the country's largest single-day campus service activity. Students work for months to plan and raise money, then spend a week decorating. The campus-wide event is held on or near the university's titular feast of the Immaculate Conception, and begins with a tree lighting ceremony and live Nativity in Humanities Plaza. Area families are welcome to attend.
" I volunteered as a buddy my freshman year, and it was the best experience I've had in college. His eyes lit up so bright! This year, I wanted to be part of planning the event that made the children so happy." – Sarah Lemley, UD sophomore and Christmas on Campus Committee member
IT TAKES A VILLAGE
34 CHRISTMAS OFF CAMPUS service events will be held by UD alumni around the country this year.
2 FACULTY MEMBERS play Santa and Mrs. Claus
2 SCHOOL CHOIRS will sing at this year's tree lighting
1,200+ "STUDENT BUDDIES" will participate in the event: one for each child
1,200+ Kindergartners, first graders, and second graders from Dayton public schools are brought in by bus
80 STUDENT PROCTORS ride in the school buses to welcome children to campus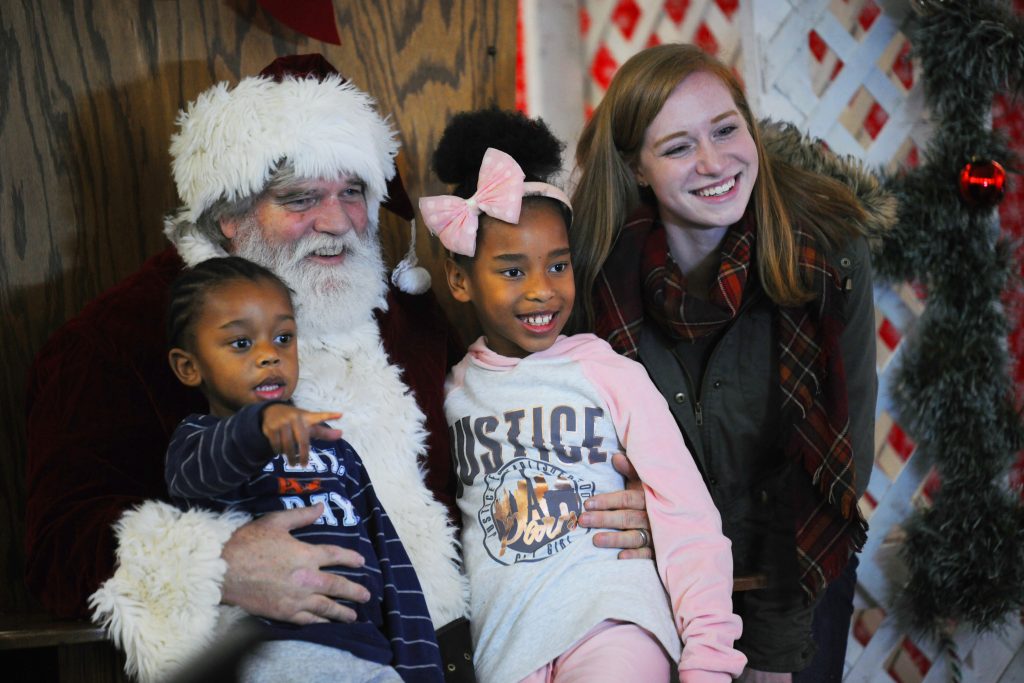 1963
Ellie Kurtz organizes the first Christmas on Campus, to give students and faculty a way to celebrate together before leaving for Christmas.
1990
First Christmas Off Campus service event held by alumni in St. Louis
" I participated every year at UD. Planning this year, I tried to find a service opportunity in Los Angeles that is close to the campus experience so we can have solidarity with Dayton. It helps me feel spirit – both the Flyer spirit and the holiday spirit." – Erin Dooley, class of '00, organizer of Christmas Off Campus Los Angeles 2019
WANT TO GO?
Head to UD's campus on December 6, from 5 – 8 p.m.
Tree lighting is at 5:30 p.m.
University of Dayton • 300 College Park • Dayton, OH 45469 • 937-229-1000