Distinguished Speaker Event Will Highlight Challenges and Opportunities Surrounding Refugees and Immigrants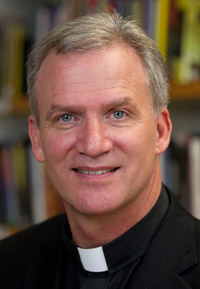 Dayton, Ohio (September 7, 2017) – A global leader on migrants and refugees will be the featured guest at the 2017 Distinguished Speaker event on Thursday, October 5. The event is sponsored by Catholic Social Services of the Miami Valley and the Catholic Social Action Office of the Archdiocese of Cincinnati, with support from the Weavers of Justice.
Rev. Daniel G. Groody, C.S.C., is the Faculty Director of the Global Leadership Program at the Kellogg Institute for International Studies at the University of Notre Dame. Rev. Groody is a Catholic priest, a Holy Cross religious, a scholar, a teacher, and an award-winning author and film producer. He has worked with the U.S. Congress, the U.S. Conference of Catholic Bishops, the World Council of Churches and the Vatican on issues of theology, globalization and migration.
Drawing on years of work in Latin America, Rev. Groody has authored various books and articles, including "Globalization, Spirituality, and Justice: Navigating the Path to Peace" (2007). He is also the executive producer of films and documentaries including "One Border, One Body: Immigration and the Eucharist" and "Dying to Live: A Migrant's Journey," which have received international acclaim and aired on various television stations including PBS.
In his October 5 presentation, "Passing Over: A compassionate response to immigrants and refugees," Rev. Groody will share his insights into the humanitarian, religious and political challenges and opportunities surrounding refugees and immigrants in our world today.
St. Albert the Great Catholic Parish, located at 3033 Far Hills Avenue in Kettering, will host the event beginning with a light dinner at 5:30 p.m., followed by a gallery of refugee experiences at 6:30 p.m. and Rev. Groody's presentation at 7 p.m. Admission is $10 per person and includes dinner. Students are welcome to attend the event at no charge.
For reservations or more information, visit http://www.cssmv.org/eventsor call Sr. Caitlin Cipolla-McCulloch at (937) 223-7217 ext. 1141. Event proceeds will benefit the refugee resettlement program of Catholic Social Services of the Miami Valley.