Dreams of a father: My hope for my soon to be born son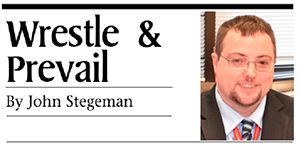 Bear with me if this column is a bit of a departure from my usual style and topic. I'm a bit preoccupied, you see, as my son is due to be born July 22.
+++++
UPDATE: My son Jacob Michael was born happy and healthy on July 23. He was 7 pounds, four ounces and both he and mom were in good shape.
+++++
I don't know anything about him yet, but I know his mother and I already love him and we already think he's got a fun little personality based on his mischievous pattern of not letting anyone but mom, and sometimes dad, feel his kicks. (Strong kicks, for the record, the kind that might make him a good NFL kicker.)
Lately I can't help but think about my hopes and dreams for him. I know it isn't fair to be planning out the life of another person I haven't met face to face yet, but that's what we do right? We plan and plan and plan and then sit back and see what God has in store for us.
Still, I hope he's healthy. I hope he's strong. I hope he figures out breastfeeding. I hope he lets his parents have a few minutes of sleep now and again. I hope he has less health problems as a baby than I did and I hope he gets the sense right from the beginning that his mom and dad love him beyond all words.
In my pipe dreams, Jacob Michael Stegeman grows to be about a foot taller than either parent and with athletic skills to boot. In those dreams he has his mother's math and art skills and his father's modest writing ability. He ends up valedictorian of his preschool class and carries that momentum until he graduates from Harvard as the captain of three (I'd be ok with two) sports teams. He's president of a Catholic Students club, he invents the successor to Facebook and he finds a Catholic woman who is the woman of his dreams.
They marry and have as many kids as God wills. The money he made off the new Facebook finances Kelli's and my retirement traveling. If it doesn't, that's ok, the money he'll make as a pro athlete in his chosen sport will make up for it.
Of course, I'll trade in every bit of that pipe dream right now to take things one step at a time. I just want Jacob and his mom to come through birth with no trouble. I want everyone healthy and happy and I want that first family photo, maybe taken by a nurse with an iPhone, of all three of us looking tired and elated at the same time in the delivery room.
Not long after that, I want to see Jacob wearing the same baptismal gown that I and several family members before me wore as the priest pours the saving holy water over his head welcoming him into Christ's church.
When he gets older, I'll teach him about homework or how to throw a ball— or on second thought maybe I'll let his mother do that as she's got a much better throwing arm — and we'll see where it goes from there.
In truth, his height, academic and athletic achievements to be had are not important. He'll be who he is, our son. And that's enough for me.
For now though, allow me to ask for your prayers for a safe, healthy and happy delivery, and for strength that I am able to raise my son to be the kind of person God wants him to be.
Previous Wrestle & Prevail columns
Words Can't Fix What Happened in Boston, Only God's Love
How I Spend My SuperBowl Sunday
Proper Understanding of Sports Can Lead to Stronger Faith