Eight Installed in Ministry of Reader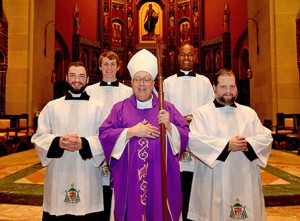 Eight candidates took a step toward holy orders as they were installed to the Institution of Reader by the Most Reverend Joseph R. Binzer, Auxiliary Bishop of Cincinnati, during Mass in the Chapel of St. Gregory the Great February 20.
A large crowd of parents and guests was present for the Mass and Parents-Seminarians Dinner which followed.
Candidates, at the end of the second year of formation, petition for and if selected, receive the Ministry of Reader. This calls them to be servants of the Living Word of God.
The names of those installed follow:
Archdiocese of Cincinnati
Christopher Komoroski
Benson Lotiang'a
Andrew Reckers
Jeremy Stubbs
Diocese of Tulsa
David Carvajal Casal
Timothy Fernandez, Jr.
Robert Healey
Diocese of Youngstown
Ryan Furlong
Read more about the installation at Mount St. Mary's Seminary website HERE.