Elder High School Grad Actor Matthew Grant Godbey to be honored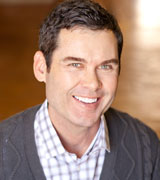 On Tuesday, March 19th, Cincinnati's Elder High School will honor actor, filmmaker and former student Matthew Grant Godbey with the prestigious Cultural Enrichment Award.
Since graduating from Elder High, Godbey has made his mark in Hollywood, as Detective Dan Evans on NCIS Los Angeles, a recurring role he has held for seven years on the popular primetime network TV drama on CBS, alongside LL Cool J and Chris O'Donnell.
Beyond his on-screen success, Godbey has earned critical acclaim as a director and producer. He co-founded CineFocus Productions in 2017 with business partner and friend Herbert Kimble, with the intent of telling meaningful stories through the art of filmmaking. In 2018, Godbey made his directorial debut with It Followed Me Here, in which he also starred. The film played in film festivals all over the world, resulting in a Best Actor nomination for Godbey at the Marbella Film Festival in Spain. Pan de Salawal, the first foreign language film produced by Godbey and Kimble, received rave reviews and garnered several award nominations, most recently winning the Balanghai Trophy at the Cinemalaya Independdent Film Festival.
The Cultural Enrichment Award that Godbey will be recognized with is named in honor of Lee M. Trauth, longtime music teacher at Elder. It is awarded to a member of the Elder community who has advanced the appreciation of culture in society. This award aptly suits Godbey, who in addition to his work in film, is also a well-respected painter whose work has been shown in multiple galleries over the years in Los Angeles and New York.
The award ceremony will be held in the Rev. Jerome A. Schaeper Center on Elder's campus at 3900 Vincent Ave. Doors open at 6:30 PM and the event is open to the public.