Elder High School Graduates 100th Class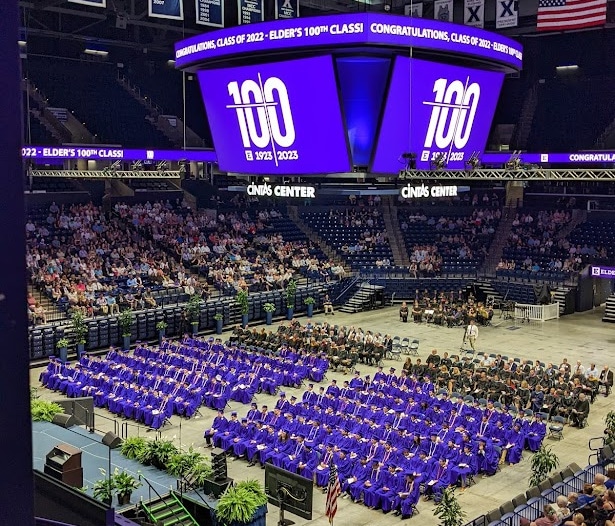 ---
PRICE HILL, CINCINNATI, OH – The doors of Elder High School opened in the fall of 1922 with its first class graduating on June 13, 1923. On Tuesday night, May 17, 2022, the historic institution that stands at the corner of Vincent and Regina Avenue in Price Hill celebrated its milestone 100th commencement exercises at the Cintas Center on the campus of Xavier University.
In recognition of the school's upcoming centennial celebration, Elder principal Kurt Ruffing invited past valedictorians and salutatorians to attend the ceremony as special guests. In attendance included Edward A. Wolff from the class of 1968 who represented his late father, Edward W. Wolff, Elder's first valedictorian from the class of 1923. Each member of the class of 2022 also received a commemorative Elder High School 2022 – 100th Graduating Class medallion.
Additionally, Ruffing acknowledged and bid farewell to three stalwarts of education who will retire at the end of this school year: Mr. Rick Nohle (45 years), Mr. Mike Boeing (43 years), and Mr. Mike Gergen (42 years). Nohle taught math and computer science and served as the school's database administrator. Boeing, a 1974 graduate of the school, served as a science and physical education teacher. Gergen taught social studies at Elder in all but seven years of his 42-year career. All three men were also heavily involved outside their classrooms as moderators of various student clubs and organizations, athletic coaches, retreat leaders, and more.
Hamilton County Municipal Court judge, the Honorable Josh Berkowitz, a 1998 graduate of Elder, served as the commencement speaker, and seniors Vince Andriacco and Jacob Stamper delivered the valedictory and salutatory addresses respectively. Andriacco is the son of Erin and Dan Andriacco of Green Township, and Stamper is the son of Emily and Mychal Stamper of Crosby Township.
Five senior awards were also presented to students who were elected by their peers, faculty, and staff. The titles and descriptions of the awards and the award recipients are listed below:
Roger Auer Service Award – to the student who was outstanding in his service to the Elder community – Trey Jansen (parents Karen and William Jansen of Green Township)
Ralph C. Bange Memorial Award – to the student who was outstanding in the use of his talents both in class and in extracurricular activities – Sam Becker (parents Erin and Matthew Becker of Miami Township)
Christian Principles Award – to the student who, by his actions, has lived the principles that Jesus taught and to which all of us are called – David Gruen III (parents Katie and David Gruen of Green Township)
Leadership Award – to the student who was outstanding in his positive leadership at Elder – Phil Hoffman (parents Shirley and Dave Hoffman of Moscow, OH)
Archbishop Elder Memorial Award – Elder's Highest Award – to the student who best exemplifies the type of graduate Elder aims to develop – Leo Bill (parents Becky and Brian Bill of Delhi Township)
The eventful ceremony concluded with an original benediction song written by Mr. Rick Nohle and performed by an ensemble of Elder faculty, staff, and alumni. Purple and white confetti showered down upon the graduates as they filed out of the arena.
Elder High School's class of 2022 is comprised of 178 young men from 31 different grade schools spanning the tristate area. Collectively, members of the class were offered 786 scholarships valued at more than $25.6 million.
Information about Elder's 100-year celebration and special anniversary events can be found at www.elder100.com