Equestrian Order of the Holy Sepulchre of Jerusalem Mass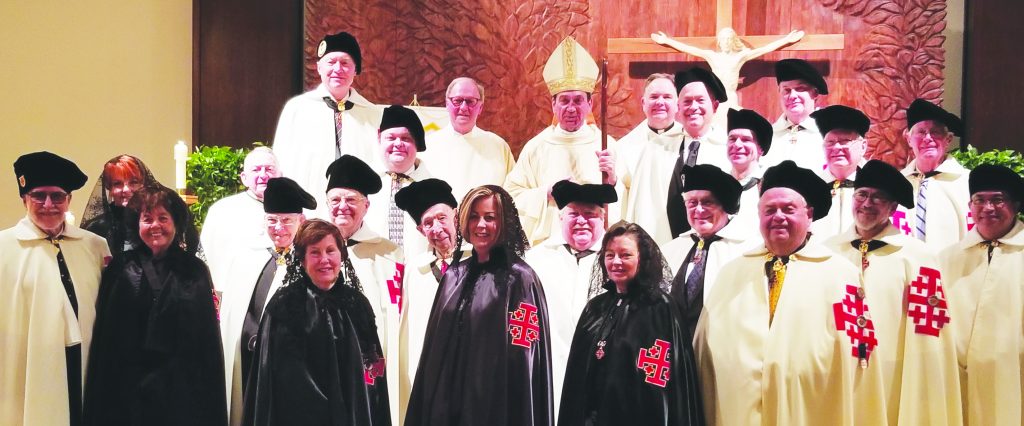 More than two dozen members of the Cincinnati Section of the Equestrian Order of the Holy Sepulchre of Jerusalem celebrated Mass with Archbishop Dennis M. Schnurr and prospective new members of the Order on Nov. 17 at St. Columban Church in Loveland, followed by a reception and program.
In his homily for the feast of St. Elizabeth of Hungry, the Archbishop discussed the connection between orthodoxy, which means right beliefs, and orthopraxy, which means right conduct or action. Both, he said, are seen in the life of St. Elizabeth and in the mission of the Order of the Holy Sepulchre, of which the Archbishop is a member.
"The Holy See has charged you with the task of providing for the needs of the Latin Patriarchate of Jerusalem and for all the activities and initiatives which are necessary to support the Christian presence in the Holy Land," he reminded the assembled Knights and Ladies.
"The Order's support for the Christians in the Holy Land does not just take the form of financial contributions and prayers, important though these are. The Order also arranges formal pilgrimages, in the course of which members do not simply view and explore the Holy Sites, but also have the opportunity to meet the people whom they are supporting and assure them that they are not forgotten.
"The Order is charged, in its Constitution, to strengthen in its members the practice of Christian life, in absolute fidelity to the teachings of Christ and His Church, observing as its foundation the principles of charity which make the Order a fundamental means of assistance to the Holy Land. This is putting faith into practice. This is orthopraxy flowing from orthodoxy."
After the Mass, which was concelebrated by priests who are members of the Order, Sir Jeffery Abood, KC*HS, of Akron, discussed the challenging situation of Christians under occupation in the Holy Land. Sir Jay Porcaro, KGCHS, co-Section Representative, gave an overview of the Order's structure, governance, works, and finances. Porcaro noted that The Order traces its origins to the year 1099 and the First Crusade. It was reinstituted by Pope Pius XI in 1847, when the Latin Patriarchate was restored in Jerusalem, and was opened to both women and men on an equal basis in 1888. Today the Order boasts 37,000 members worldwide, 15,000 of them in North America, and funds a hospital, a seminary, a university, and more than 50 schools in the Holy Land. The Cardinal Grand Master, appointed by the pope, is currently Cardinal Edwin O'Brien. Learn more at http://holysepulchre.net/history/membership.html