Marian Pilgrimage 2021: Final Consecration and Fountain Square Concert
June 19, 2021 @ 8:00 am

-

5:00 pm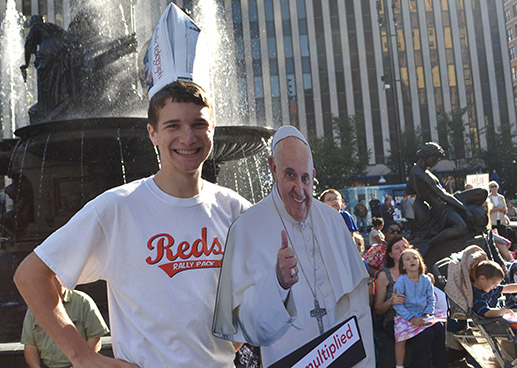 Final Consecration and Fountain Square Concert– Cincinnati, OH
Saturday, June 19th, 2021; 12 p.m.

The final day of the pilgrimage will be marked with a celebration of the Archdiocese's Bicentennial at Fountain Square in Cincinnati. The pilgrims will make their way from Holy Cross Immaculata to the Bicentennial Mass with the Archbishop at St. Peter in Chains. The Mass, in particular the re-consecration of the Archdiocese to Mary, will be live-streamed to the Fountain Square event which begins at 4. Following Mass, a cultural bicentennial celebration will begin with music and dance from Catholic communities throughout the archdiocese, including Resurrection's Gospel Choir and a Latino Dance group. At 2 p.m. the Christian collaborative group Village Lights will begin, featuring artists Sarah Kroger, Ike Ndolo, and Ricky Vazquez. Food trucks will also be on hand throughout the afternoon as we celebrate the conclusion of the Marian Pilgrimage, Consecration to Mary, and the Bicentennial of the Archdiocese of Cincinnati.