Events mark 10th anniversary of Sister Dorothy Stang's death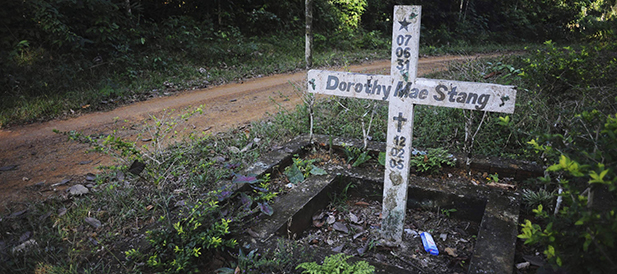 Staff Report
Two events are planned to mark the 10th anniversary the murder of murder of Sister of Notre Dame de Namur Dorothy Stang in February 2005.
Sister Dorothy was shot and killed by hired gunmen as she walked along a dirt road in the Amazon rainforest of Brazil.
It was Sister Dorothy's dream for the people to live self-sufficient lives, and to be able to use the land in sustainable ways. The native of Dayton had been visiting with some of the struggling farmers in the interior when she was killed. She was 73, and had given nearly 40 years of her life to the fight for the rights of the poor.
The new American opera "Angel of the Amazon" will be presented June 6, at 2 p.m. at St. Anthony' Church in Madisonville. Written and produced by Evan Mack, the off-Broadway performance depicts Sister Dorothy's life's work and her devotion to her mission with Brazilian peasant farmers. It is described as a modern tale of strength, devotion and sacrifice.
On June 7, at 7:30 p.m., the Sisters of Notre Dame are having a special liturgy and reception at Mount Notre Dame Chapel in Reading. Both the "Angel of the Amazon" opera and the liturgy and reception are free and open to the public. Due to space constraints, reservations are required for each event. Reserve a spot by contacting Meg Sharp at 513-679-8109, or [email protected]
For more information about Sister Dorothy, visit www.sndohio.org/sister-dorothy/, www.sndhohio.org/sister-dorothy/Dorothy-Stang-Materials.cfm, or www.notredameonline.org/en/resources/sister-dorothy-stang.
Posted June 2, 2015