Exonerated death row inmate shares experiences with area Catholics
May 1, 2012
By Mike Dyer
A few days before Easter, Joe D'Ambrosio started yet another chapter in his life when he was hired as a maintenance employee at St. Clarence Parish in North Olmsted, Ohio.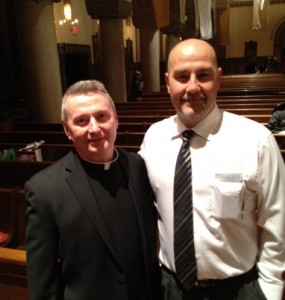 The development might not normally have the impact on others that it did with the 50-year-old D'Ambrosio, who was on Ohio's death row for more than 21 years.
"I have health insurance, which is so nice to have," said D'Ambrosio, who mentioned he is a jack of all trades of sorts around the parish near Cleveland.
D'Ambrosio, a lifelong Catholic, isn't one to take anything for granted. While he was exonerated Jan. 23, he understands people might view him in a different light since he was a death row inmate.
Yet, D'Ambrosio enjoys conveying his remarkable story around the state and had done so seven times as of mid-April. D'Ambrosio and Father Neil Kookoothe spoke for about 90 minutes to an audience at the St. Monica-St. George Parish Newman Center on April 12.
"It's a wonderful celebration of life," Father Kookoothe said in his opening remarks.
Father Kookoothe, pastor of St. Clarence Church, was instrumental in helping to argue the innocence of D'Ambrosio over the years. He met D'Ambrosio while visiting another inmate on death row; Father Kookoothe had been a spiritual advisor to a number of death row inmates.
Father Kookoothe, who has a legal background, was also a critical care/trauma nurse for 15 years and that experience went a long way in analysis of evidence for D'Ambrosio's case. Father Kookoothe was ordained a priest in 1995 and has been pastor of St. Clarence since 2006.
D'Ambrosio explained the loneliness and significant anxiety he experienced on death row and how his explanations for his defense often fell on silent ears. He said when he wore the orange suit he felt like a "dead man walking." He said being innocent on death row is the "loneliest, heart-wrenching thing."
"It will haunt me for rest of my life," he said.
D'Ambrosio didn't want to just be put in prison for the rest of life and spared the death penalty by his legal team. He wanted to prove his innocence, and he wrote stacks of letters to media outlets, law schools and other people that could possibly help. The $16 a month he was paid for a job in prison went mostly for postage for those letters, he said.
The meeting he had with Father Kookoothe was the break he needed.
"I finally talked Father Neil into taking the (court) transcript home," D'Ambrosio said. "Thankfully he did, otherwise they would've killed me 10 years ago."
According to the presentation and a report in the Cleveland Plain Dealer, D'Ambrosio was 26 when was arrested in 1988 for the murder of Anthony Klann. D'Ambrosio insisted he was innocent, but needed another voice to be heard in the legal system for his case.
"He didn't convince me he was innocent," Father.Kookothe explained of his early meetings with D'Ambrosio. "I convinced myself."
D'Ambrosio was discharged from the Army at the age of 26 and was just starting to live his life at the time he went to prison. Now, at the age of 50, he realizes his opportunity to have a family has likely passed him by. While his journey has been incredibly difficult, D'Ambrosio said it can't compare to Klann, who lost his life.
D'Ambrosio 's story on death row has several twists and turns, but the meeting with Father Kookoothe in 1998 sparked the beginning of newfound hope for the man who proclaimed his innocence for so many years.
D'Ambrosio, an active parishioner at St. Clarence, said he relied heavily on his faith during the two decades of being on death row. He said he gets asked how his Catholic faith could remain strong during the several years of solitude.
"It's on God's time. It's not our time," D'Ambrosio said. "We want it right now but it's on God's time that He will do what He wants."
As a result of both of their relentless efforts, D'Ambrosio became the sixth death row inmate to be exonerated in Ohio and the 140th overall in the nation since the death penalty was reinstated in 1976, according to the event organizers.
Sister of St. Joseph Ruth Kettman introduced the speakers to an audience of an estimated 150 at St. Monica-St. George. She had heard the men speak in October 2011 at an archdiocesan event at Good Shepherd Parish in Montgomery and was struck by their story. She was inspired to schedule the conversation at St. Monica-St. George and said she was able to learn more because both men were free to speak openly after the exoneration in January.
"We are passionate about ending the death penalty," Sister Ruth said before the presentation. She cited the church's teachings on Respect Life issues and said the death penalty needs to be more at the forefront of conversations among Catholics.
Sister Ruth, a member of St. Monica-St. George for the past two years, is part of the parish's Justice and Peace Commission. She has 30 years of experience in working to the end the death penalty.
After the men completed their presentation, Sister Ruth concluded the program with a prayer to abolish the death penalty, which those in the church recited from a prayer card.
"I would like the bishops to take a much more vocal stance (against the death penalty)," Father  Kookoothe said. "It's a right to life issue."