Faith on the Field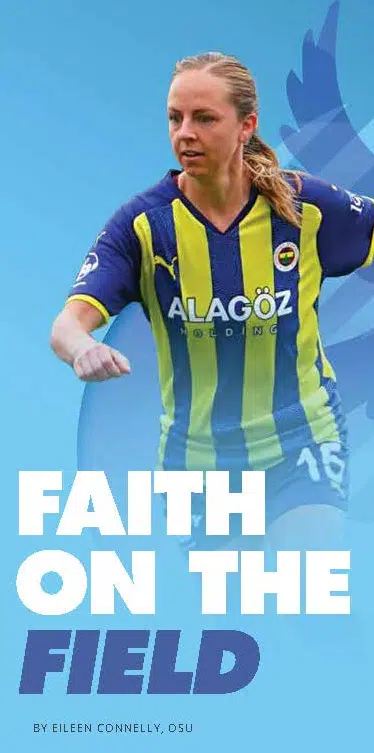 What's the connection between sports and our Catholic faith? It's the journey of discovery for professional soccer player Erin Yenney. The 29-year-old Troy, OH, native has found plenty of opportunity to live her faith, deepen her relationship with God and evangelize, all while traveling the world as she played the sport she's loved since childhood.
"We just love sports," Yenney said of her parents and brothers. "I think I started playing at around five-years- old, just kicking the ball around. As I grew older, I also played baseball and basketball, but really developed a passion for soccer. The game just allows for a lot of freedom and creativity that I really enjoy. It's a physical game, but you also have to think and problem solve in the space you've been given."
"And sports unite people," she added. "Any time you're on a team, there's that sense of camaraderie. I may not be able to speak the same language as my teammates or the people I'm playing against, but we're still able to connect through the shared language of soccer."
Yenney attended Troy High School before being recruited to play soccer at the University of Louisville, where she studied industrial engineering. "By sophomore year, I knew I wanted to pursue playing professionally after college," she said.
That decision gave the young soccer player an opportunity to travel the world, along with setting the stage for "an exciting journey of following God's will for my life," Yenney said.
When soccer took her to Sweden in 2016, Yenney quickly realized there wasn't much of a Catholic presence where she was based. "That was my first experience of having to step out with my faith and find the connection and relationship with God on my own," she said. "I didn't have teammates at the time to share my faith with, and while that made me feel uncomfortable, it was also an opportunity to strengthen my faith."
Her strengths as a midfielder next led Yenney to Colombia, and a different experience of faith. "There's such a huge Catholic population and it's so embedded in the culture," she said. "I wasn't on a faith-based team, but we prayed before every practice and match. It was just the normal thing for my teammates to do and it was a very rich experience for me because of the faith of my coaches and fellow players."
In 2018, Yenney made her debut with the Chicago Red Stars, where she tapped into the vibrant local Catholic community and interacted with other young adults active in their faith. She participated in the Diocese of Joliet's Catholic Soccer Camp, which later became part of Catholic Sports Camps and had as chaplain a former professional soccer player, Father Chase Hilgenbrinck.
Playing next in Finland, Yenney found a limited Catholic presence, and this yielded more time for her personal spiritual development, prayer and reading of the Scriptures. In the first part of 2020, COVID presented U.S. soccer players with many challenges, including travel restrictions and budget issues, and left Yenney without a club or place to play. After nearly two years of not playing professionally, Yenney admitted she was "ready to throw in the towel"; then, out of the blue in the fall of 2021, she was contacted to join a new professional women's soccer team in Turkey. Before long, she headed to Istanbul as part of the Fenerbahçe Sports Club.
"I didn't know anything about Turkey, but the whole experience turned out to be such a blessing," Yenney said. "I quickly fell in love with Istanbul and its rich history. There is so much Christian history in Turkey that it really enriched my faith. And learning about another religion [Islam] … was really meaningful. Although I didn't get to have the kind of conversations and dialogue I really wanted to, it did help me to see the unity of all of us. That's been one of my favorite things about the places I've visited: making connections and finding the similarities between people. It's been God's grace at work in every place I've been."
a professional athlete can be quite isolating; there are so many moments of uncertainty and times when you question your value and your worth. My relationship with God has been the one thing that I knew I had. It's a reminder that my identity isn't based on what club I'm signed with or how well I'm doing on a team, but on how God sees me," she said.
Amid her travels, support from home has helped keep her faith strong. Her parents are active members at St. Patrick Parish in Troy, where Yenney attends Mass when she's home and where she has a huge fan in its pastor, Father Eric Bowman.
"Erin is my favorite soccer player," he said. "I love this awesome spiritual daughter. What I love most is her beautiful faith and the manner in which she lives that faith. She would send me messages from her time in Turkey from the spiritual pilgrimage sites." Yenney has solid advice for other young adults, which is, unsurprisingly, connected to sports and God. "Everyone has tough times that they go through, and that's what I love about sports, especially soccer," she said. "It gives you practice for life. Every time you're presented with a challenge, even if you fail or make a mistake, it's the chance to learn, grow and try again. That's totally related to our faith. God knows we are going to fail, but He's there to help us to be strong and to continue to come back home to Him. So we need to be resilient believers who are constantly working on our faith, actively seeking God and turning to Him for strength. By doing that, we build resiliency. We have to be okay with sometimes having a lack of faith, knowing that's normal and human. But then we come back to God, because He is always seeking us. We just have to turn to Him and be resilient in our belief."
This article appeared in the September 2022 edition of The Catholic Telegraph Magazine. For your complimentary subscription, click here.