Faith & School in the Family: Carroll High School a Sableski Family Institution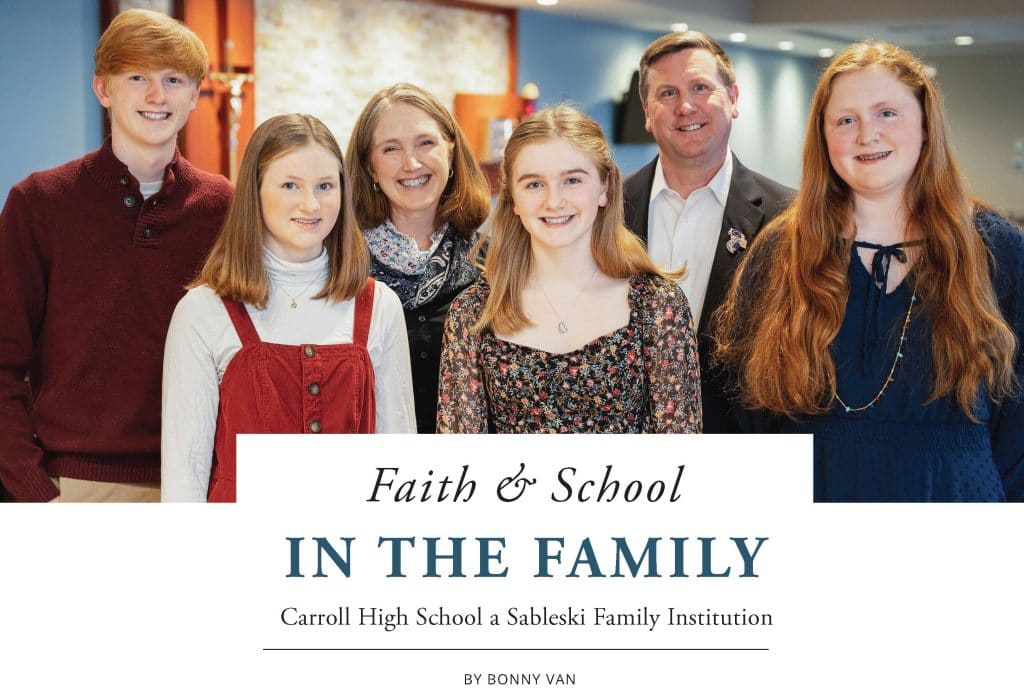 On May 20, 2022, three Sableski family members will appear on stage at Carroll High School (CHS) in Dayton's graduation—and one is both the principal and an alumnus. Matt Sableski, CHS Class of '91, will hand out diplomas to and shake hands with his twins, Patrick and Annie. Sableski and his wife, Mary-Kate, also have daughters Nora, a sophomore at CHS, and Colleen, a seventh grader and future CHS Patriot.
"I feel truly blessed to work at the place my kids go to school," Sableski said. "I have loved watching them grow and learn and interact with their classmates each day. By and large my kids do well academically, make good choices and they have wonderful groups of friends. We set boundaries and I give them their space, but the best part of any day is when I see them during the day … even if they're coming to ask for money or an item left at home!"
Having your dad just down the hall in the main office every school day could be intimidating for any teenager, but Annie and Patrick eventually embraced it and the extraordinary richness it brought to their high school career.
"[Having my dad as principal] shaped my formation by giving me a chance to experience high school in a special way that others didn't get to experience," said Annie. "Getting into the building after hours, talking with my dad about concerns my friends and I had and seeing how much the school meant to my family were all ways that my experience was unique."
"Going into and throughout the first year or two of high school, I was definitely worried about becoming my own person and not being identified only as the principal's son," said Patrick. "Just like any high schooler, I have really come into my own the last couple of years … My dad is obviously a huge part of my life, but I have become my own person and I feel now as if I am viewed that way rather than as an extension of my father."
Sableski admitted that his own freshman year at Carroll High was much like his son's: a lesson in discovery.
"When I came in as a freshman, I was 4'11" and weighed about 90 pounds," said Sableski. "I was kind of lost that first year, but once I started running cross country and track as a sophomore, everything changed. I became more confident, started to succeed academically and made great friends."
Like his father, Patrick ran cross country and track and was captain for both teams. He's been involved in numerous service activity clubs, including Youth in Government, while Annie was busy with theater, campus ministry, cooking club and Trinity House, where she was service coordinator.
Despite all the advantages of having your parent on campus with you, both teens admit to being aware of his presence when in the presence of others.
"Especially early on, I felt as if some of my peers worried about me being the principal's kid when interacting with me, not talking to me much," said Patrick. "Some teachers, too, would seem to sort of walk on eggshells around me. Overall, however, my experience at Carroll with my dad and sisters has been a very positive one."
"The funniest moment with my dad was when a teacher made a joke about my dad and the teacher quickly realized that I was in the room and got embarrassed," Annie said. "I thought it was funny and laughed right along with everyone else."
There were also many special moments, such as when Sableski presented to each child an award for academic achievement and when he addressed the student body at school Masses.
"Mass is very important for us at Carroll, so it is very cool to see everyone in a good mood with my dad addressing all of us," said Patrick. "I felt how special this was and appreciated it a little extra this year as we weren't able to have any all-school Masses last school year due to the pandemic."
After graduation, Annie plans to attend college then become a kindergarten teacher in Catholic education, crediting her father with inspiring her to work with students. Patrick also plans to attend college, major in English, and eventually become a filmmaker. Both take with them a strength in both character and faith, thanks to the example set by their father.
"I have seen how hard [my dad] works every day and how he cares so much, especially these last few years," said Patrick. "Watching him work through a pandemic has shown me just how much this job means to him."
Annie added, "My dad is a great role model who has a very strong faith and has inspired in me a strong work ethic, a love of my family, and a love of God."
This article appeared in the May 2022 edition of The Catholic Telegraph Magazine. For your complimentary subscription, click here.