Farmers say leaving worries to God only way to cope with US drought
August 16, 2012
Catholic News Service
DES MOINES, Iowa — For weeks farmers in southwest Iowa, such as Larry Rayhons of Lenox, have been checking the forecasts and clear skies for the hint at some relief in the form of rain during the worst drought since 1936.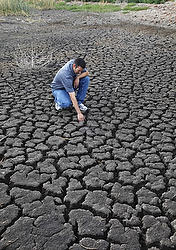 "This is the worst drought we've experienced in 37 years of farming," said Rayhons, a grain farmer and parishioner of St. Patrick Church in Lenox. "I may be able to muster 100 bushels an acre … half of what it could've been, but if that's what the Lord wants me to have, I'll be happy with it."
Rayhons and other members of his parish have been praying the rosary before every Mass offered in Lenox since the beginning of July. On July 27, parishioners took part in a day of fasting as a prayer for rain.
"Our faith is strong enough that come floods or droughts, we know we'll be OK," Rayhons told The Catholic Mirror, newspaper of the Des Moines Diocese. "Sometimes our greatest disasters lead to our greatest blessings, but we don't see that until we look back on it."
According to the National Weather Service, the area that makes up the diocese is currently in a severe drought and in danger of becoming an extreme drought if it persists as forecasted. An extreme drought causes major losses to crops and pastures and widespread water shortages.
Urban and rural parishes across the diocese have been praying for rain.
Farmer and trader Bart Brummer, a member of St. Thomas Aquinas Church in Indianola, recalled similar situations when he was a young farmer.
"I can remember when I was 25 or 26 standing out on the back porch just begging it to rain and being irritated at God, quite frankly," he said. "But as you live through some of that and mature in your faith, you're not sure how it's going to work out but you know it will."
This year, he said, there's a lot of uncertainty about the marketability of the crop. Many farmers now have crop insurance.
"The crop has continued to look amazingly well for what it's gone through," Brummer said. "We're blessed in Iowa compared to a lot of people in Missouri, Illinois and Indiana where they just lost entire fields."
"Trusting in God is the big thing," explained Father Ken Halbur, pastor of Holy Spirit Parish in Creston. "No matter what happens, God will get us through it. Good things can come out of bad situations."
Father Halbur recommended prayer and faith in God to maintain hope through difficult times. "It may not be what we want or expect, but God will always give us what we need."
Drought or near-drought conditions have been reported in nearly half of all counties in the contiguous United States.
Portions of the Midwest, including Indiana and southern Wisconsin, Illinois and Missouri, are dealing with extreme drought conditions, according to the U.S. Drought Monitor. During the 2012 crop year, the U.S. Department of Agriculture has designated about 1,300 counties across 29 states as disaster areas, mostly in the southern and western U.S.
In the neighboring Diocese of Davenport, which covers southeast Iowa, farmers are relying on their faith, too.
Each day that passes without rain, the lost potential of Tony Kriegel's 1,800 acres of corn and soybeans ticks higher.
"I think at this point, we've probably lost 30 percent of our potential. From here on out, we'd need an inch of rain a week to salvage this crop," the member of St. Patrick Parish in Brooklyn said in late July.
But Kriegel knows he's not in control. "I'm a firm believer we're at God's will as to what we get for our crop out here," he told The Catholic Messenger, the diocesan newspaper.
Other farmers share his perspective. Some said they see no hope for their corn — though August rains could still revive soybeans — but seek some peace of mind through their faith.
"The good Lord has taken care of us in the past and will continue to do so," Andy Adam said. A member of Ss. Joseph & Cabrini Parish in Richland, he farms 600 acres of corn and soybeans north of town.
His crops are slowly dying. Conditions haven't been this bad in 20 years, he said. But farmers elsewhere are faring worse. "Farther south in Iowa and down into Missouri, it's pretty much burnt up."
Jim Foels, who calls himself a "semi-retired farmer," said his 320 acres of corn and soybeans north of Brooklyn have seen little rain since late July. Before then, the last measurable precipitation came in June thanks to a windstorm that blew rain onto his crops.
"I think about everybody who's got any belief in God is praying for rain," said the St. Patrick parishioner.
"The hardest part for me — and I think for a lot of farmers — is the emotional roller coaster that we ride," Kriegel said. "We spend a lot of time and money putting our crop in. It's hard to watch that go away."
He has an insurance policy that covers large crop losses but would rather not have to collect on it. And the farmer of 45 years worries how younger farmers, who may have little equity built up, will fare after a poor growing season.
Everyone will feel the effects of this drought, Kriegel said. With rising corn prices, some livestock farmers will sell their animals rather than lose money buying feed. That means the cost of meat, milk and eggs will go up in six to nine months, he said.
The Des Moines-based National Catholic Rural Life Conference noted that lower-income Americans will especially be affected by higher prices as they tend to spend more of their income on food.
On its website, www.ncrlc.com, the organization encourages praying for them as well as for farmers. also offers a link to a novena to St. Isidore, a 12th-century Spanish farmer.
For Foels, one suggestion seems especially relevant: "Let go and let God. That always sticks in my mind in times like this."