Father Jan Schmidt begins tenure as director of Pastoral Services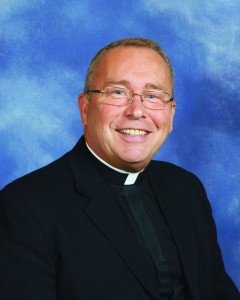 Father Jan K. Schmidt, formerly pastor of St. Margaret of York Parish in Twenty-Mile Stand (Loveland), joined the archdiocesan Central Offices on July 1 as director of the Department of Pastoral Services. The department includes the offices of African American Catholic Ministries, Campus Ministry, Evangelization, Family and Respect Life, Mission, Hispanic Ministry, New Evangelization, Planning, Prison Ministry, Worship, and Youth and Young Adult Ministry.
A Cincinnati native, Father Schmidt worked as an executive in the amusement park industry before entering the seminary and being ordained in 1990. He is a graduate of Archbishop McNicholas High School, the University of Cincinnati, and the Athenaeum of Ohio/Mount St. Mary Seminary.
While teaching at Archbishop McNicholas, he was a resident associate at St. Andrew Parish in Milford and then Our Lord Christ the King in Mt. Lookout. He became pastor of Immaculate Heart of Mary Parish (IHM) in 1995, and St. Margaret of York (SMOY) in 2008.
His years as pastor at both IHM and SMOY were "phenomenal experiences," Father Schmidt said. During his tenure, both faith communities experienced increases in Mass attendance and the respective parish schools received the National Blue Ribbon designation. The members of both parishes are "beautiful people with wonderful spirituality," he said.
He knows how difficult it can be for parishes to change pastors, and has learned the value of listening and being patient as parishioners share their hopes and dreams with their new shepherd.
"It's important to consider where the particular parish is currently and where it's going in order to make good decisions and fashion a community where people are fed, he said."
One of his big pushes as a pastor was the evangelization and catechesis of young people, he noted. "We tend to see them as the church of tomorrow, but they are very much the church of today. We need to allow them more ownership at the parish level and see that they are as involved as possible."
Father Schmidt believes his time as a pastor, along with his organizational and business skills will serve him well in his new role, noting that God "has been present" in all his experiences thus far.
He admitted to being "floored and surprised" when Archbishop Dennis M. Schnurr approached him about the position last November, and he turned to prayer to discern how he could best use his skills in service to the archdiocese.
"I'm excited about this for so many reasons," Father Schmidt said. "I see this as an opportunity for change. The church has a lot of competition for peoples' attention. I think we need to look at what we are doing and how we are doing it. I want to be as supportive of our parishes, hospitals and other ministries as possible, so that they can continue to do the work of New Evangelization and bring people back to the church, helping them to find God's presence, peace and mercy in their lives."
Father Schmidt was preceded in this position by Father Len Wenke.
This story first appeared in the August 2016 print edition of The Catholic Telegraph.