February Edition: Catholic Schools Week, Fish Fry Guide and more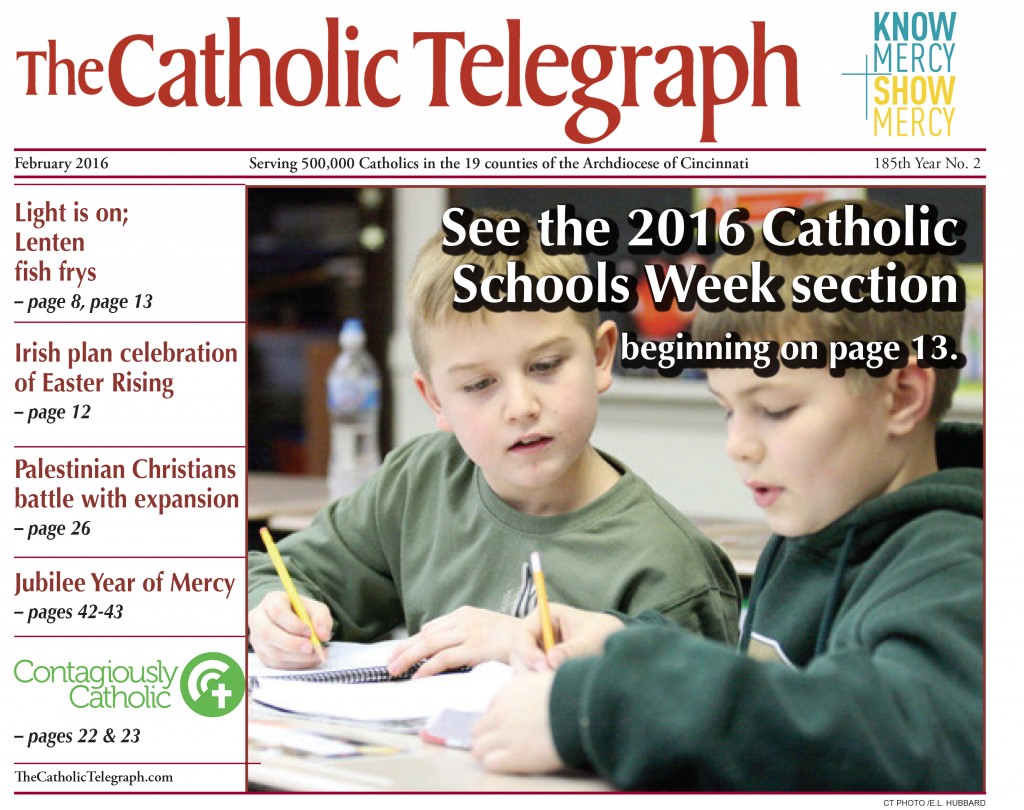 A 20-page section all about Catholic Schools and the ever-popular Fish Fry Guide are the central focuses of The Catholic Telegraph's February 2016 printed edition, which will begin arriving in mailboxes this weekend.
The February edition's special Catholic Schools section features a breakdown of enrollment and explanation of significant changes in the schools office over the past year.
It isn't all about numbers though. In one inspirational story News Editor Sister Eileen Connelly shares the tale of a St. Nicholas Academy teacher who is using her breast cancer diagnosis as a teaching tool for her students.
New Media Editor John Stegeman shares the story of St. Cecilia in Oakley. The school has seen more than 20 students baptized through a combination of evangelization and opening its arms to the Hispanic community.
Freelance writer Walt Schafer has a story on students raising money for their counterparts in Ethiopia and freelancer Patricia McGeever writes about a St. Michael principal who trekked through Florida to raise money for her school. More than a dozen other stories about Catholic schools can be found in this edition.
Catholic Schools Week is Jan. 31 to Feb. 6 this year.
The annual Fish Fry guide (pages 13-14) contained listings for 91 parishes throughout the Archdiocese of Cincinnati. That's up from last year's listings which contained info for 82 parishes. The Fish Fry guide will be posted online HERE on Feb. 1.
Editor and General Manager Steve Trosley's column deals with faithful citizenship and Jeanne Hunt talks about making deals with God.
The New Evangelization and Year of Mercy pages can be found on pages 42-45.
Because of a deadline prior to the event, coverage of the March for Life will not be found in this edition. The March for Life and associated events are covered at TheCatholicTelegraph.com.
Many, but not all, of the stories from the February 2016 print edition will appear online over the course of the next month. To make sure you don't miss a single story, subscribe to the print edition HERE at no personal cost.