Flooding devastates West Virginia; Alderson House needs help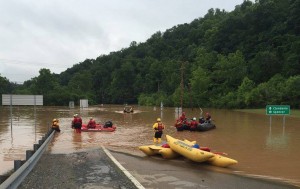 WHEELING, W.Va. — Bishop Michael J. Bransfield of Wheeling-Charleston asked for prayers for those affected by the devastating floods in West Virginia that have left 26 people dead, including a 4-year-old and an 8-year-old.
As of June 27, almost 500,000 were without power and 44 counties were under a state of emergency.
"We pray for those affected by this natural disaster, including those who have lost their homes and livelihoods; those who do not have electricity, food or clean water and, most importantly, for those who are injured and have lost loved ones," Bishop Bransfield said.
Also damaged was a mission supported by the Archdiocese of Cincinnati, according to Kathleen DeRouen, Director, Alderson Hospitality House, Alderson, WV. The Alderson Hospitality House supports the women of FPC Alderson, a minimum security prison, and their friends and families.
Originally established as a Catholic Worker House, the AHH opened in 1977 and has since served more than 50,000 overnight guests. The residence provides a place for self-surrendering inmates to spend the night prior to going to Alderson FPC, and temporary lodging for visitors. Guests are not charged for the lodging, meals, transportation, assistance and other services provided at the hospitality house.
More on Alderson Hospitality House
Lay Missionaries offer warm welcome at West Virginia house
Damage from the flooding was widespread, with the southeastern region of the state being hit the hardest. Walls of water came crashing into towns and small communities leaving ruin and heartbreak in their wake.
"It's pretty devastating," said Father Chapin Engler, pastor of St. Charles Borromeo Parish in White Sulphur Springs. "It was the most significant rain event I've ever experienced. The main waterway that goes through the valley of White Sulphur completely flooded its banks and took with it many houses."
Interested in helping the Alderson Hospitality House? CLICK HERE 
The Catholic News Service contributed to this report