Friars' mall ministry part of new evangelization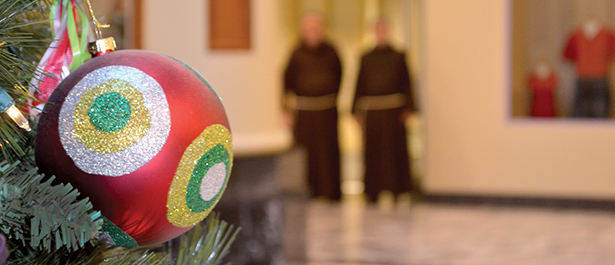 By John Stegeman
The Catholic Telegraph
Some retail outlets began playing Christmas music this year the day after Halloween to remind customers that the shopping days before Christmas were dwindling. Time is running out, they say, to get great last-minute deals on this year's Tickle-Me-Elmo, ZhuZhu Pet or whatever fad gift the kids just have to have.
One store at Northgate Mall on Colerain Avenue in Cincinnati will be taking a different approach this Advent season. The Franciscan Friars of the St. John the Baptist Province will be occupying a store in the same corridor as Macy's — and they don't want your money.
Calling it a 'Ministry of Presence,' the Friars plan to be available in the evenings on weekdays and all day on weekends to staff what they hope will be a quiet refuge in the Christmas shopping storm.
"This was proposed as sort of an experiment in New Evangelization" said Toni Cashnelli, communications director for the Friars. "It is sort of a way to share the Gospel just by providing a Franciscan presence. It would be warm and welcoming in the marketplace at a time when we know that people's lives are frantic and they're really really tired from shopping. Maybe all they want is a place where they can sit and be quiet and maybe even talk to someone."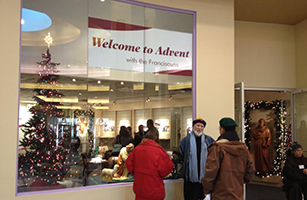 Father Jeff Scheeler, provincial minister of the St. John the Baptist Province, came up with the idea of a local mall ministry.
"Some diocese have had chapels in malls. I've always thought that was an interesting idea being more accessible to people," he said. "One Sunday I was out at Northgate Mall and I noticed they had a whole lot of open spaces and I thought maybe we could do something for Lent or Advent."
After discussing it with his order's leadership and the Archdiocese of Cincinnati, Father Scheeler found support for the idea. Prepared to pay rent, he approached Northgate Mall management and they offered a space essentially rent-free.
Father Scheeler envisions the environment to be much like the post-Mass atmosphere at a parish where the priest visits with parishioners on their way out. The difference here will be that there's no rush to leave and there should be two Friars available at most times. Confession could also be available to those seeking it whenever a priest is present.
The Friars' location in the Macy's corridor is a former shoe store. Father Scheeler said they plan to decorate and be ready to go by Black Friday, the biggest shopping day of the year. While plans weren't finalized at press time, he said there will be posters of Franciscan ministries on the wall, probably some scenes of the Nativity, a Christmas tree, reading material, some chairs for sitting and a place to write and leave prayer intentions. Also, of course, the Franciscans themselves will be there wearing their habits.
"I think people will be a little surprised to see us and they'll be curious and that's a good thing," Father Scheeler said. "We don't plan on selling anything or anything like that. We hope to have some coffee and hot chocolate and maybe some cookies if anyone just wants to stay and chat."
The mall ministry will be open from Black Friday to Christmas Eve. Black Friday hours are 10 a.m. to 9 p.m., weekdays are 6 p.m. to 9 p.m., Saturday hours are 10 a.m. to 9 p.m. and Sunday hours are Noon to 6 p.m. On Christmas Eve, the Friars will be there from noon to 3 p.m.
Cashnelli said the Friars will be happy to pray or talk with anyone who asks, and she stressed that the location is open to all, not just Catholics.
Auxiliary Bishop Joseph R. Binzer will be joining the Friars for a few hours on Black Friday.
Father Scheeler said the Friars considered collecting items or donations for the poor but noted "there are so many places that are doing that." The Friars may have envelopes to accept donations if someone chooses to do so, but that is not why they're setting up a shop in the mall.
"Our idea is basically just to kind of be a presence" Father Scheeler said. "We want it to be a presence of welcome and hospitality and availability in the marketplace."
This story originally appeared in the December print edition of The Catholic Telegraph.