Friday Photo: That's not a mitre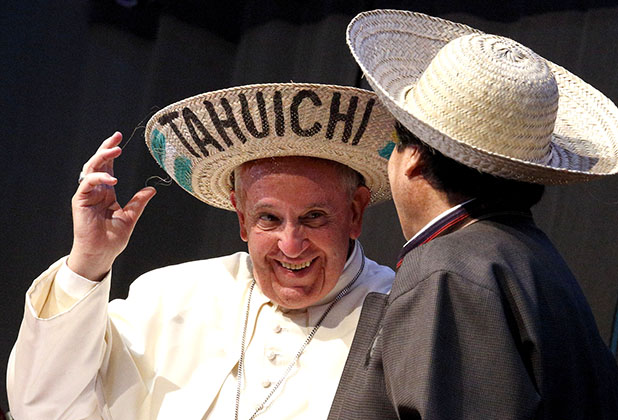 Staff Report
In honor of Pope Francis, who is in the midst of a July 5-12 visit to Latin America, we almost renamed this Friday Photo feature, "Fun Hat Friday."
There's a long history of papal headwear. Many years ago, popes wore a tiara. Francis and past pontiffs frequently wear a white zucchetto, and during liturgies of course they don a mitre. Pope Benedict XVI dove deeper into papal head coverings with use of the camauro (red wool or velvet with white ermine trim worn in winter) and cappello romano (a wide-brimmed hat worn outdoors.)
In today's Friday Photo, we see the Holy Father wearing a sombrero of sorts as he and Bolivian President Evo Morales participate in the World Meeting of Popular Movements. Lest anyone think this is another papal first, Pope Benedict XVI was seen sporting a sombrero himself on his visit to Mexico in 2012.
The word "Tahuichi" on the pope's hat may refer to the Tahuichi Way International Youth Soccer Camp, which is based in Bolivia. According to the Soccer Camp's website, the word (pronounced tah-WEE-chee) means "Big Bird."
Previous Friday Photos A taste of glory Catholic Press in a Cathedral Hear in the Silence of Old St. Mary's Commit your work to the Lord Take me out to the ball game Summer nights, festival lights Taking the Plunge
Welcome to Friday Photo. A post where The Catholic Telegraph staff select an image that shows the vibrant life of the faith community in the Archdiocese of Cincinnati, and around the world. To submit a photo for consideration, email John Stegeman with "Friday Photo" in the subject line.
Posted July 10, 2015