High school runner puts Christ, others first in her life
June 25, 2012
By Kathy Schwartz
COLUMBUS — As Meghan Vogel carried competitor Arden McMath across the finish line at Ohio's state high school track championship, God carried her.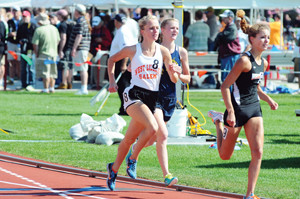 Vogel's compassion for a fallen rival in the 3,200 meters received a standing ovation at Jesse Owens Stadium in Columbus in early June. Video and photos went viral online. In the days after the meet, Vogel appeared on Ohio television stations, Fox News' "Fox & Friends" and Canadian TV. Her story was picked up by Britain's Daily Mail. Her school, 450-student West Liberty-Salem in Champaign County, heard from someone in Uganda inspired by her selflessness.
She lost count of the interviews. But through all the attention, the 17-year-old has maintained humility, living lessons taught by her parents, Ann and Jason, and church, St. Patrick in Bellefontaine.
"God put me in last place for a reason, to help Arden," she said.
Vogel had never finished last in a race, says her mom, who is West Liberty-Salem's coach. But that day, she trailed the other 14 runners in the 3,200.
Less than an hour earlier, the high school junior had enjoyed one of her biggest moments, winning the 1,600-meter race with a personal best of 4:58.31. The day before, she competed in the 4×800 relay.  To explain her unusual place in the 3,200, you could say she was simply worn-out. Or, borrowing from sportscaster Al Michaels, you could say, "Do you believe in miracles? YES!"
With about 100 meters left, Vogel saw McMath, from Arlington High School near Findlay, fall about 50 meters ahead.
"I thought, 'Either she'll get back up, or I have to help her,' " Vogel recalled.
Dehydrated and suffering leg cramps, McMath fell twice more before Vogel caught up. Putting McMath's arm over her shoulder, she carried and dragged her opponent, making sure to push her ahead at the finish so she kept her spot before Vogel.
Both could have been disqualified under rules on aiding another runner.  Officials instead awarded them 14th and 15th place.
"That's what distance runners do for each other," said Ann Vogel, a 20-year coach, who teaches her girls to appreciate what other athletes go through. This time, an example of sportsmanship just happened to be caught on video.
"It wasn't an act of heroism, but a reminder to be kind to others," in sports and in life, Ann Vogel said.
For heroes, Meghan Vogel points to "God and family, people at church, people who have changed the world," such as Harriet Tubman, and her sports idol, Wilma Rudolph. "I don't think what I did is all that special," she said.
Yet distance runners are a special group, both Vogels say. At the state meet, Ann Vogel saw the whole field of athletes — from all schools, all denominations  — pray together.
Running is a sport of peaceful solitude and solidarity. Relationships form during 10-mile runs, Megan Vogel said, and "there's a divine aspect, being out in nature."
Every time she runs, "He's running with me," she added. "I always say a Hail Mary before I run."
Though she grew up with sports, she believes "compassion overrides competition." She'd worked her whole life for a state championship, but thinks she'll remember her effort in the 3,200 more than the 1,600, "because it showed my character."
"Compassion lasts a lifetime. Competition gets you only so far," she said in response to Rush Limbaugh's comment that her act displayed the "decline of American competitiveness."
Ann Vogel also ran at West Liberty-Salem, and, as coach, of course she likes to win. To keep her competitiveness in check, she said, "I have to pray a lot: 'Lord, guide my words and actions and feelings.' She reminds her athletes that "everybody is still going to love you" if you don't come in first.
In addition to her mother's words, Vogel said says Father Pat Sheridan's sermons at St. Patrick inspire her to "do what I know is right."
She said she's been told that "a lot of people feel what I did restored their faith in teenagers."
Father Sheridan says such a comment sells America's youths short. He called Vogel "a charming, lovely kid. Very humble. Not quiet, but sincere." He also gave credit to her family, which includes two older brothers.
Vogel is active in the church's St. Vincent de Paul Society. Less than a week after the state meet, she and her mother helped at St. Patrick's fun run, with Vogel running alongside youngsters for encouragement.
Vogel, who was her junior class president, wants to keep running in college, where she plans to study education and social work, and then obtain a law degree. She's attracted to Teach for America, a nonprofit working to ensure excellent education for children in poverty.
"Service is part of our family," her mother said. "We also don't sweat the small stuff," despite the occasional tendency to take sports too seriously.
"We keep Christ first in life."