Holiness as the Perfection of Charity
Among the more famous passages from the Book of the Prophet Isaiah is the anthem of the Seraphim who surround God's throne and chant, "Holy, holy, holy is the Lord of hosts! All the earth is filled with his glory!" (Is. 6:3.) It introduces a central paradox for Christians, because it tells us God is at the same time separate from, but everywhere in, the world. The angels' song provides a foundation for thinking about the "universal call to holiness," articulated in Chapter 5 of Vatican II's Dogmatic Constitution on the Church (Lumen Gentium). The hymn also helps us understand our Lord's curious admonition in Matthew 5:48: "Be perfect, just as your heavenly Father is perfect."
SET APART

The most basic meaning of the Hebrew word for "holy" (translated from "kadosh"), is "separated," "set apart" or "distinguished," and this meaning is sustained through the later Greek and Latin words, "hagios" and "sanctus," respectively. While the Jewish tradition does not have an analogue to the Catholic institution of sainthood, these Latin and Greek terms are commonly translated in the Christian tradition as "saint." Thus, a saint is the person who is "set apart" or "distinguished." Just as God is separate from, but everywhere in, the world, the saint is called to sustain a life that is different from, but engaged with, the world. But how?
The difficulty in this was recognized as early as the 1st Century in The Epistle to Diognetus, a Christian's apologetic letter to a Roman magistrate. Christians "live in their own countries as though they were only passing through," the writer explains. "Any country can be their homeland, but for them their homeland, where it may be, is a foreign country. … Christians are found in all the cities of the world, but cannot be identified with the world." Thus "the world hates the Christians … because they are opposed to its enjoyments."
This is not to suggest that these early Christians' lives were yet perfect, but it gives us a glimpse of the challenge of striving to live a holy life in a fallen world; to imitate Christ in the world that killed Him.
THE UNIVERSAL CALL TO HOLINESS

It is precisely in this difficulty that we discover the Church's definition of holiness – of sainthood – and can begin to understand what the "universal call to holiness" means. Christ, who is "uniquely holy," according to Lumen Gentium, "delivered himself up" for the Church so that "He might sanctify her." In other words, Christ shows the perfection of His own holiness: as the ultimate act of charity, giving His own life for the very ones who took it. Holiness is perfected in charity; charity is epitomized by the complete gift of self.
In his 1988 Apostolic Exhortation, Christifidelis Laici, Pope St. John Paul II more fully explored this understanding of holiness. "The charge is not a simple moral exhortation," he explained, "but an undeniable requirement arising from the mystery of the Church," for which Jesus gave His entire self. This call to holiness commences in baptism, such that every baptized person is called to follow and imitate Jesus Christ, even to the "perfection of charity."
This helps us comprehend what Jesus meant by telling His disciples to be "perfect." The Greek here ("teleioi") can be rendered as "executed," "performed" or "entirely accomplished." It is the same root word Christ proclaimed from the cross, when declaring the completion of His work on earth: "It is finished." And in the Greek's perfect tense, Jesus' declaration means, "it is finished and will continue to be finished." Charity's perfection was accomplished through the death of One Man for all persons.
Thus, in Matthew 5:48, Jesus instructs us to complete – to work out – the holiness into which we were initiated when we were baptized in the blood of His complete self- gift – His death. This is exemplified not by loving your brother, Jesus previously explained, but by loving your enemies and those who persecute you. Give yourselves to all people, Jesus is implying, just as He gave himself to those He knew would kill him. Continue to participate in the work that was finished on the cross – by dying to yourselves.
We are called to nothing less than to be like Christ, whose charity was perfected by His death. Participation in that death is the only path to sainthood, and this is the universal call to holiness.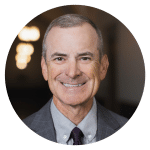 Dr. Kenneth Craycraft is an attorney and the James J. Gardner Family Chair of Moral Theology at Mount St. Mary's Seminary & School of Theology.
This article appeared in the March 2022 edition of The Catholic Telegraph Magazine. For your complimentary subscription, click here.