Holy Redeemer parishioner answers God's call
March 2, 2012
By Kathy Schwartz
NEW BREMEN — It takes a village to raise a child.  How fitting that saying is when describing Joe Eilerman's life.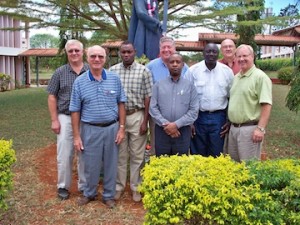 Eilerman, founder of the Mission of the Body and Blood humanitarian group, grew up in Minster and is a 37-year resident of New Bremen, a neighboring Auglaize County village. The small communities are tight-knit places where folks look out for one another, and families have stayed for generations. Eilerman, 60, grew up as one of six children, and his mother came from a family of eleven.  "My mom taught me it's better to give than to receive," he said.
It's fitting, too, that the saying "it takes a village" is derived from African proverbs. It's in the African nation of Tanzania where Eilerman wants to build a village not that different from Minster or New Bremen, with a thriving church, school system, farms and businesses.
Africa had been on Eilerman's mind since 1974, when New Bremen's Stamco Co., where he worked, sent him to South Africa for half a year to oversee equipment installation. On weekends, he'd drive in the countryside, past mud homes and scenes of poverty.
Eilerman wanted to do something to help improve those lives, "but I was too involved with raising a family, paying bills."
Everything changed in 2009 when Eilerman was diagnosed with bile duct cancer.
Colleagues at Midmark Corp. in Versailles, where he retired last year, pitched in to defray expenses.
"After the diagnosis, God said, 'Joe, it's time to do what we talked about.' " Eilerman wanted to finally   help people in Africa and somehow pay forward the generosity of Midmark's employees.
Eilerman, a member of Holy Redeemer Parish in New Bremen, contacted Missionary of the Precious Blood Father Benedict Magabe, a priest from Tanzania who has been serving  St. Henry Church in Mercer County since 2008.
"I told him, 'God is telling me to do something in Africa,' " Eilerman recalled. Father Magabe directed him to the Precious Blood seminary in Morogoro, Tanzania.  But sponsoring seminarians was just a start.
Eilerman last year established the nonprofit Mission of the Body and Blood (MBB), "dedicated to providing spiritual guidance, health care and education to the underprivileged in underdeveloped countries throughout the world." Haiti and Jamaica also receive support. Eilerman is the mission's president, and "God put an excellent group of people with me," he said.
Eilerman saw conditions first-hand on a trip to Tanzania last fall. People in the countryside live on less than $1 a day. Signs posted in St. Gaspar's hospital in Itigi, an institution supported by the Missionaries of the Precious Blood, list the top diseases in the pediatric ward. Malaria is first.Typhoid is third. HIV/AIDS is number four. The top conditions in the ward include worm infestation, anemia and malnutrition.
MBB hopes to help improve Tanzanians' lives so they "do not spend 90 percent of their time trying to fill their stomachs," Eilerman said.  A common livelihood is cutting saplings, burning the wood in pits, and then selling the charcoal for fuel.
"We want to teach them new trades and skills" that put them on the path to self-sufficiency, Eilerman explained .
But basic needs must be met immediately. Three shipping containers of donated medical supplies, food items, tools and clothing have been sent at the cost of $7,000 each.
Missionaries of the Precious Blood distribute the goods.  The next shipment will include school desks. Students now sit on the floor. Education is at the center of the village that MBB wants to see built over the next 20 years near Dodoma, Tanzania's capital.
Father Magabe pointed out the need around Dodoma and the plight of young women there. The Upendo project ("Upendo" is Swahili for "love") will include a school for girls who, under Tanzanian law, have been expelled because of pregnancy, in some cases through rape. Nuns will care for their children while the young mothers attend class. "We want to bring them through college or nursing school, to bring them back to (serve) the community," Eilerman said.
The plans include a trade school, medical school, clinic and church. The nation's spiritual makeup is 40 percent Christian, 40 percent Muslim and 20 percent tribal religions, Eilerman said. At a church in Malongwa, an exterior wall is collapsed, yet during his October visit, Eilerman watched worshippers dance and wait three hours for the priest to arrive.
Then there are the plans for the Upendo village. The mission is forming a subcommittee of farmers from the Minster and New Bremen area to teach agricultural skills. "They have good land (around Dodoma) and could ultimately become a major exporter," Eilerman said. "We have to get them over the hump."
The mission lives by the "teach a man to fish" proverb. The Tanzanian villagers might eke out an income at first, but then "they own the business and feel compelled to improve it."
Eilerman compared the start of Upendo to the beginnings of New Bremen and Minster, where German immigrants dug the Miami & Erie Canal, then established churches, farms, schools and businesses.  And they raised their children well.
It just takes a village.
For more information about the Mission of the Body and Blood, visit www.missionofthebodyandblood.org.