Holy Week Traditions: What is Tenebrae?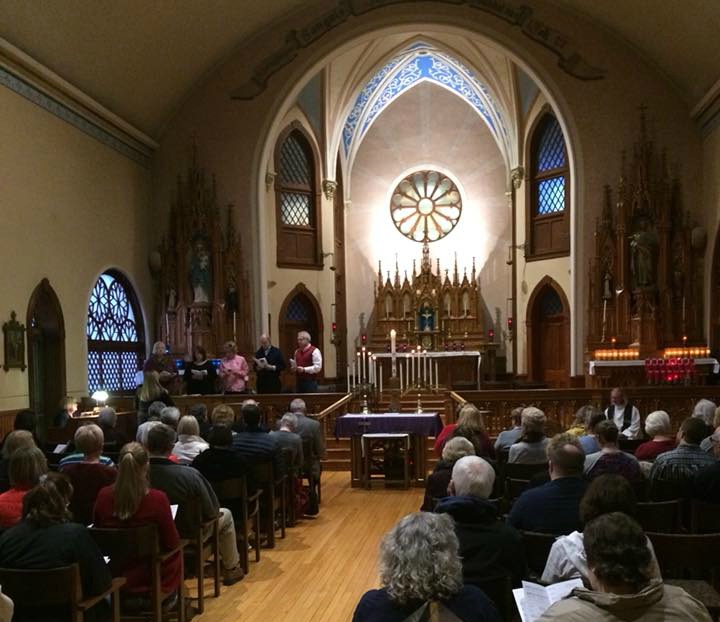 Tenebrae ("shadows" or "darkness") is a Holy Week service that is at least 1,000 years old. Originally held in after midnight but later held at a variety of times, Tenebrae would be sung each day of the Triduum in a church lit only by 15 candles. These were extinguished one by one until the church was left in darkness.
At that point, a loud noise ("strepitus") would be produced – sometimes by slamming a hymnal or other book shut, sometimes by stomping on the floor – symbolizing the earthquake after Christ's death.
Like the "lessons and carols" services familiar at Christmas, Tenebrae consists of hymns and readings, the ones proper to Lauds and Matins for the days of the Triduum. Until the mid-1950s, when the Easter Vigil had been revived, nearly every parish in the United States sung Tenebrae on Holy Thursday, Good Friday, and Holy Saturday. Today, churches with Tenebrae services usually sing them once, on a Lenten evening – not necessarily during the Triduum.
The Maria Stein Shrine of the Holy Relics held a Tenebrae service earlier this month. Remaining Tenebrae services this year:
Cathedral of St. Peter in Chains
March 28, 7:30
The Cathedral Choir will sing for this very popular annual event, come early for best parking and seating.
St. John the Baptist, Dry Ridge
March 28, &:30
Sacred Heart Church, Camp Washington
March 29, 30, 31, 8 a.m.
Sacred Heart has revived the three-day Tenebrae tradition once the norm in the United States. Singers from the Sacred Heart and Old St. Mary's Latin choirs will sing three different services on each day of the Triduum, with the longest (about two hours) on Holy Thursday and the shortest (about an hour and a half) on Holy Saturday.
Old St. Mary's, Over-the-Rhine
March 29, 7 p.m.
The choir for the evening service will include some of the singers who will sing Sacred Heart Church's morning services, but in a different and more musically elaborate setting.
St. Cecilia, Oakley
March 29, 7 p.m.
The St. Cecilia choir and soloists will present "Seven Last Words," a service in the Tenebrae format with readings featuring the seven last words of Christ and musical settings by composers including Frank, Gounod, DuBois, Bach, and Pergolesi.
Is your parish's service missing? If so, please email [email protected] with the information and we will add it.