Hope for the Future: Prison Ministry Supported by the CMA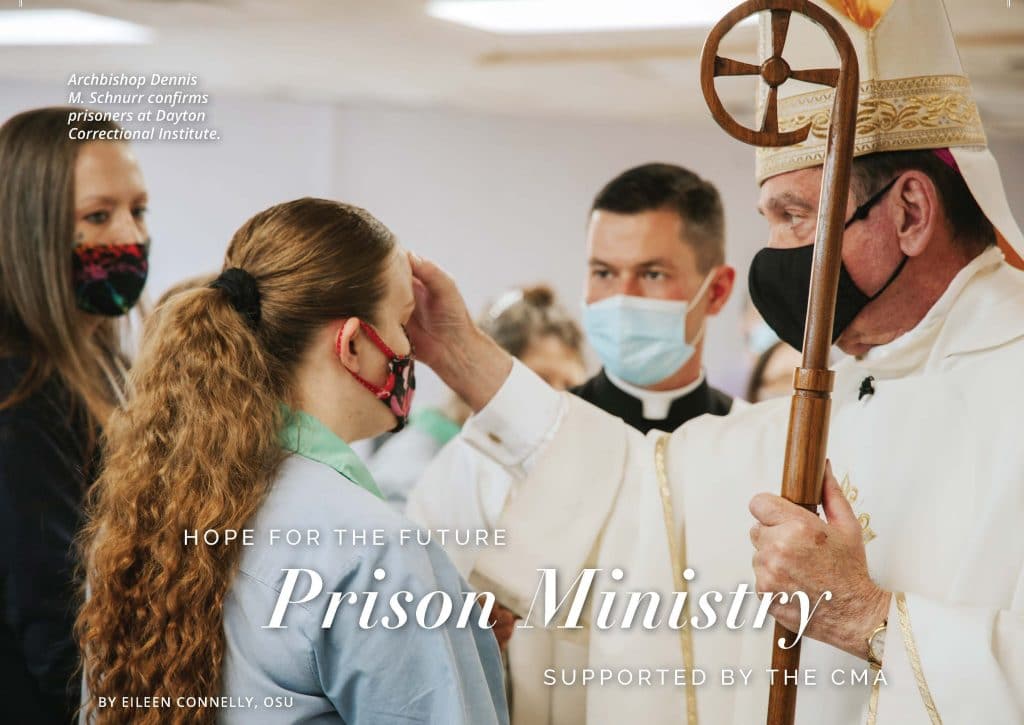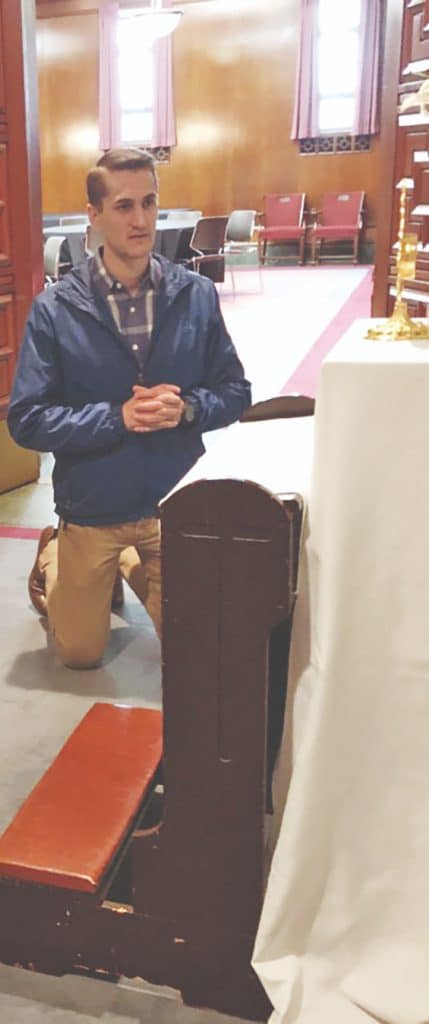 ARCHDIOCESAN PRISON MINISTRY

There was a time in Kathy Bendall's life when she questioned not only her faith, but her very worth. She credits Catholic prison ministry with helping to restore both.
Raised Catholic, Bendall's faith was challenged as a child amid family issues of alcoholism and constant arguments. "I watched my mother pretend that everything was perfect in our house, and I thought 'this is all a lie, this is not real,'" she said. "I thought God couldn't be real, and if He was, then this wouldn't be happening to me."
Bendall was ultimately sentenced to two prison terms:
18 months for theft and forgery, then 30 months for possession and trafficking cocaine. Despondent to the point of believing she didn't deserve to live, she walked into Dayton Correctional Institution's prison chapel one day and locked eyes with a Sister who smiled at her with love and encouragement.
"I realized then that I was exactly where I was supposed to be, that 30 months in prison was the best thing that ever happened to me," she said. "It brought me to Christ in a way that I had never experienced before. I realized I can pray to Him and know that He's always with me, that I'm good enough because of Him."
"The experience of being in prison brought me back to the faith I was raised in," Bendall added. "It also brought me back to my husband and my son. We are a true union in the Body of Christ and are blessed beyond measure."
"I am always impressed by the faith of the individuals I meet when visiting prisons," said Archbishop Dennis M. Schnurr. "The prison ministry program ministers to incarcerated men and women who respond to God's invitation to follow Him and to join the Catholic Church. For incarcerated individuals who follow the same routines each day, the opportunities for fellowship, prayer and celebration offered by the prison ministry program, are a unique sign of their dignity and a reminder of God's love for them. I am especially grateful to those who donate to the Catholic Ministry Appeal, which directly supports this important work and makes this ministry possible."
Now an active parishioner at Mary, Help of Christians Parish, Fairborn, Bendall is also a licensed social worker, ministers at a substance abuse and treatment center in Columbus, and provides individual therapy services.
THE SERENELLI PROJECT

A conversation in 2019 between a director of prison ministry, Marty Arlinghaus, and an inmate, Cole Varner, led to a new ministry rooted in faith and forgiveness, Serenelli Project. Sentenced to nine years in Lebanon Correctional Institution for selling drugs, Varner asked Arlinghaus, "Could a guy like me become a priest?"
Receiving the Catholic sacraments while in a foster home, Varner fought a lot in school, joined a gang and ended up "following a path of chaos." While incarcerated, his thoughts drifted back to happier childhood times, and he found comfort in praying, attending Mass and having a relationship with God.
Arlinghaus was "blown away" by Varner's question, and prayerfully considered options for Varner and other inmates facing the challenges of both re-entering society and sustaining their faith. "I realized they would need a religious community with a very specific apostolate: a contemplative, monastic order, focused on a life of prayer, work, service and recovery."
Alessandro Serenelli, the Italian man who murdered St. Maria Goretti, inspired Arlinghaus. While in prison, Serenelli reported a vision of St. Goretti in which she reassured him that she had forgiven him. He converted and became a model prisoner. After his release, he joined the Capuchin Franciscans as a lay brother and worked as a gardener, porter and general laborer.
"The fact that he committed the most heinous of crimes, then converted in prison – that was our example," said Arlinghaus, who works for the Archdiocese of Cincinnati. "Even though Serenelli is its own non-profit distinct from the Archdiocese [of Cincinnati], it is truly one of the many fruits of the Archdiocese Prison Ministry," Arlinghaus noted. "It was inspired by our encounters with the incarcerated and born out of our work with them in the prison ministry to bring them to life in the Gospel through Jesus Christ."
The questions arose of where to house such communities, for both men and women, and "what to have them do," Arlinghaus said. "Then, I thought of all of the local abandoned churches, even Catholic churches, with unused rectories and convents."
At press time, he said the Serenelli Project leadership had met with owners of a former convent building and planned to purchase it, and they were in "solid talks" to acquire a church and rectory.
Varner is expected to be the first resident, released from prison in June, and he hopes to be joined by a priest or other man interested in living out the Serenelli spirituality. They will establish a prayer schedule and begin cleaning out the buildings.
BORN FROM HOPE
Although the Serenelli Project is a separate entity from archdiocesan Prison Ministry, it was born from prison ministers' good works that began inside the walls of local prisons "The Archdiocese Prison Ministry and its mission to bring the faith into the prisons is one of the ministries supported by the CMA (Catholic Ministries Appeal)." Arlinghaus said. "We, and by we, I mean the ministry team and the inmates alike, are deeply grateful for the generosity of those who contribute to the CMA."
He continued, "And now, the Serenelli Project picks up in the mission where the Prison Ministry, by law and prison policy, must leave off, accompanying the faithful after their sentence is served to remain faithful, to remain in the Church and to bear the fruits of repentance by the mercy, grace and forgiveness of God."
This article appeared in the March 2022 edition of The Catholic Telegraph Magazine. For your complimentary subscription, click here.