How to get the most out of the March for Life, even if you can't go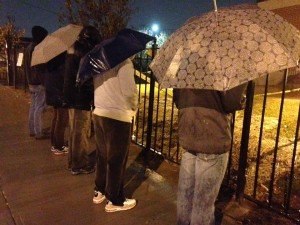 By Gail Finke
The annual March for Life is a chance to stop, pray, refocus, and recommit to doing what you can to uphold the dignity of all human life, from conception to natural death. The March's particular focus is on the dignity of the unborn, who are human beings and whose lives matter.
"I've been organizing bus trips to the March for about 10 years," said Polly Barga, of St. Augustine parish in Minster "The Rally for Life and Youth Mass have been highlights because youth get a chance to hear a great homilist, see thousands and thousands of youth in one arena, opportunities for confession with a priest they don't know – which may give them the courage to go – and even witness hundreds of young people that are discerning the religious life, which is something they rarely get to see."
Paul Coudron, Executive Director of Dayton Right to Life, says that being pro-life "takes more than saying you're pro-life."
Instead, he said, "being pro-life means action." Participating in the March for Life in Washington, or one of the related marches that have spread to other cities around the world, is a way that hundreds of thousands of people choose to act.
For most, the day is a one of excitement and fellowship. But it also be a day of pilgrimage as you witness to your faith in a largely secular world that is often hostile to life. If you can't make the March, you can still make this day a day of prayer and witness and a day to renew your own faith.
The following list is based on suggestions by Jeannette Niezgodski. The Dayton pro-life activist prays and demonstrates at abortion business in Dayton and at rallies around Ohio and around the country. She has also organized large March for Life trips for many years.
1) Attend Mass. Vigil Masses at the Basilica of the National Shrine of the Immaculate Conception and morning Mass at Verizon Center give March for Life attendees a chance to pray and experience the Holy Sacrifice of the Mass with thousands of other Catholics and many priests, bishops, and even cardinals. For those able to get in –and both Masses always fill up – it's a chance to be part of a large and enthusiastic crowd. But if you can't get a seat, try to make it to Mass at a different church in the area. If you'll be at work or at school while the March goes on, try to make an early morning Mass and pray for those who can attend. Karen Emmerich supervisor for the Chaminade-Julienne High School Eagles for Life club in Dayton, said that solidarity in prayer is vital to the March. "An aspect of the March that people don't see is that on the morning of the March, nearly every church and large venue in DC is filled with people starting the day with prayer," she said.
2) Visit a related site. Museums, churches, and historical sites abound in around Washington, and each year there are more related conventions and other events scheduled. If you'll be in Ohio on Friday, try to visit a local cathedral or shrine, or a museum or historic site connected to advancing human rights and liberties. If you can't fit in a trip on the date itself, try to schedule a trip on the weekend.
3) Visit, call, or write to your senator, especially if he is not pro-life."I cannot emphasize this enough," Niezgodski said. "Even if you cannot get an appointment with the senator go see his staff," sign the visitor book, and let him know that you want him to vote pro-life." Although Niezgodski noted that an in-person visit ranks "hundreds of times higher in importance" over an email, postcard, or phone call, if you can't make it to Washington, then do email, write, or call your senator. Increase the impact of Washington visits by your communications from home.
4) Pray. Niezgodski recommends praying the rosary, and some years has participants on March for Life trips make their own rosaries to use. The United States Conference of Catholic Bishops has a yearly nine-day prayer campaign leading up to the March that features special pro-life prayers. If you missed the start of the novena, the prayers can be prayed any time. The "Nine Days for Life" website includes ideas for gatherings, a toolkit for people leading prayer or events, and more.
5) Watch pro-life videos and films. Niezgodski recommends Nick Cannon's video for "Can I Live," a song about his mother's decision not to abort him, the video for Nick Huff's song "Blue Eyes like Janey's," and the documentary "180." Videos, songs, and documentaries can prepare you for your trip, strengthen your commitment, and spark prayer.
6) Don't stop. Even a March for Life trip is a one-time event, it can be the beginning of your prayerful support of "the least of these." "You can be sure that all these kids believe that abortion is wrong," Barga said. "However, if they aren't prepared to respect themselves and their bodies and the purpose ofliving a chaste life – as a single person as well as a married person – the option of abortion can become acceptable. Emmerich's Eagles for Life group participate in a variety of projects throughout the year, including a baby bottle contribution drive and the Day of Silent Solidarity. "Monetary contributions collected in baby bottles benefits the Elizabeth New Life Center," she said. "The day of Silent Solidarity gives students the opportunity to be silent for the day to represent aborted babies who don't have a voice."
Southwest Ohio, the site of the original Right to Life organization, is a pro-life center for local, state, and national pro-life activity.
For a year-long calendar of events including fundraisers, rallies, prayer vigils, and Masses, see our story here.