Human trafficking, part four: Help and hope for victims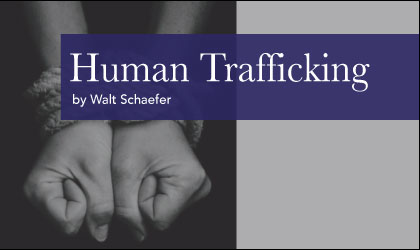 Part four of a series on a pressing issue for our region, and on the Catholic response to it.
By Walt Schaefer
One weekday evening a week, at about 9 p.m. when the strip clubs In Harrison Township north of Dayton get busy, representatives of Oasis House drop in.
The purpose? To offer assistance to any of the exotic dancers who may feel it's time to leave the sex business. 
Surprisingly, club owners "are very open to having us coming—very, very open," said Cheryl Oliver, director of Oasis House. "It is amazing that, when the industry started, there were 12 sexually oriented businesses in that strip. Now there are three clubs left, and two other sexually oriented businesses who offer lingerie, things like that.   
"Oasis House began by offering help to women in the clubs. It has evolved to doing programs throughout the Montgomery County area," said Oliver. "We do a substance abuse transition program. We do programming in the Dayton Correctional Institution for Women where we do a mentoring program.
"We offer street outreach to individuals who find themselves back on the streets. We still do the clubs but a lot of those individuals have taken to social media."
Oasis House in Dayton and Stop Slavery Cincinnati are the two agencies in southwestern Ohio dedicated to helping women escape the clutches of sex traffickers. 
End Slavery Cincinnati is approaching its fifth year as the anti-human trafficking coalition serving the greater Cincinnati area and beyond. The agency serves Hamilton, Butler, Warren, Clinton, Clermont, Brown, Adams, Highland and Scioto counties. It is sponsored by the Salvation Army with support from several sources, including Catholic agencies, the Sisters of Notre Dame de Namur, and other religious communities.
Oasis House, in its 14th year, is funded by individuals and churches. It is not dependent on state and federal grants. The Archdiocese of Cincinnati provides private grant dollars to maintain a victim mentoring program and the Sisters of the Precious Blood are active supporters. "We are dependent on other small churches, and we are a Christian organization, but very ecumenical."
End Slavery Cincinnati's Erin Meyer said her agency, covering a sprawling nine-county area, provides training and education opportunities. "That includes coming up with a response protocol for each county," Meyer said. In Hamilton County, for example, "we have been working with the municipal court and the juvenile court to help develop a specialty docket to help the court system be responsive to the (trafficking) issue and to be streamlining resources.
"We also do outreach and some of that is with partnering agencies. We have office hours at different centers around the communities recognizing that homelessness and people needing jobs contribute to the problem. We go to drop-in centers."
End Slavery Cincinnati engages possible victims on the street and goes into migrant worker camps to reach workers.
"An interesting thing, when you talk about our outreach, is that we serve individuals whether or not they are ready to say they are being exploited through commercial trafficking," Meyer said. "Our purpose is to serve people who are vulnerable to exploitation. While we don't force our services on people, the outreach lets them know that we are out there to support the individual in whatever decision they make."
Both agencies work with an effort called "the soap project" developed by a former victim from Columbus. The idea is to place small bars of soap in the bathrooms of participating hotels and motels. The wrapping provides potential victims the phone number of an agency or a help line. The effort has grown to include placing the same information on drink coasters in bars.
A restroom is one of the few places a victim may find privacy away from the watchful eyes of the trafficker.
"We also have had calls from individuals who have reached out for help from a church. A church is a special symbol for sanctuary," Meyer said. "The victims were able to get away…and went to a pastor or priest, who called the hotline."
Meyer said her agency generally handles 60 to 70 new cases a year "but we serve more like 100 to 150 individuals" – out of the 350 or so they talked to in their outreach efforts.
Both agencies work closely with law enforcement.
"They take the lead in investigations," Meyer said, "but we work by providing crisis response and coordinating services for victims."  
In Dayton, Oliver said, Oasis House "is the central call center for trafficking in the greater Dayton area so agencies know to call us." They work hand in hand with the Montgomery County Sheriff's Office and Dayton police, Oliver said, "getting the word out there that victims need to go to Oasis House. We offer free mental health care. We do a mentoring program. We have a drop-in center for women who are not ready to leave the streets yet, but need a safe place to stay, to take a shower, to get something to eat, to find a clean change of clothes. That provides us an opportunity to speak to them so they know we're here when they're ready."
Oasis House also helps victims regain their lives. "They  have already ruined their reputations with their families and their trust in themselves." Oliver said. "So we are here to reach back to the family and try to work it out. Women can live with us for up to two years, getting free mental health care, mentoring, spiritual support and growth tools and someone 24/7 to talk to."
Oasis House also helps victims in court. "We often say that if the victim gets arrested, it's the best thing that could happen," Oliver said. "We really want to get the guy behind it all, but if a victim happens to go down with him, at that moment, it's good. We'll go to court with her, and we'll do everything we can to support her.
"If she decides to act as a witness against her trafficker, we will support her. But girls are seldom willing to testify," Oliver said. "They are afraid. They are scared to death. It is very hard to get these guys. We have people who should have been prosecuted for human trafficking, but they end up getting prosecuted for something much less and get no prison time."
Oliver recalls hearing victims called "drug whores." 
"I say to that: Let me tell you her story," Oliver said. "Let me tell you about the beast who got her into this, and you're calling her a drug whore because of what he's done to her?'
"And we let him go free."           
Find End Slavery Cincinnati at Endslaverycincinnati.org. Find Oasis House at Oasisisforwomen.org.  Catholic Charities Southwestern Ohio helps victims of
sex and labor trafficking and their families. Visit Ccswoh.org/trafficking for help or to volunteer.
If you suspect trafficking:
 "Look for someone who seems out of place, or is with someone who won't leave them alone, even going to the restroom with them. Check for license plates that don't appear to belong. If you see something, call police or the human trafficking hotline." – Cheryl Oliver, Oasis House
"Be watchful for people who do not seem to be in control of a situation, or appear to be under the control of someone else. You could be out at a restaurant and see something. Don't hesitate to call. There is no such thing as a bad tip. You never know when you will be there for a victim." Erin Meyer, Stop Slavery Cincinnati
Do not approach a possible trafficker — it could put you or a victim in danger. Instead, call the human trafficking hotline: 1-888-373-7888.
For Part I of this series, click here

For Part II of this series, click here
For Part III of this series, click here