Irish eyes were smiling – Mass at Dayton's Celtic Festival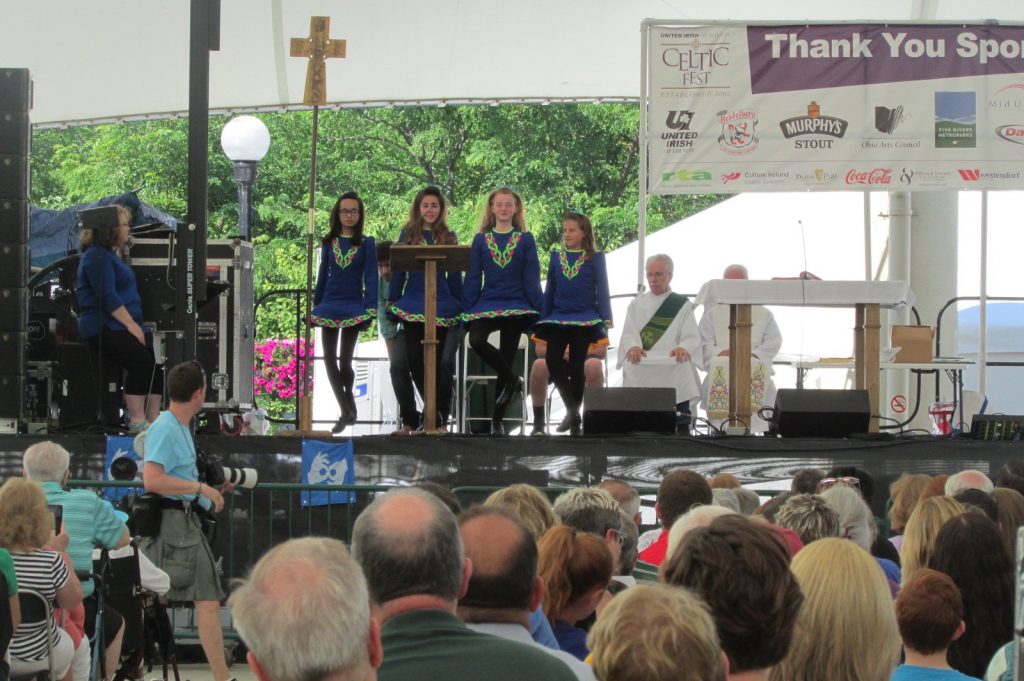 Father David Byrne, a priest of the Diocese of Niagara, Canada, celebrated Mass on Sunday morning July 30 for attendees of Dayton's annual Celtic Festival, the largest free Celtic music festival in the country.
Now held at Dayton's RiverScape Metropark, the three-day festival presents Irish and Celtic music in a variety of styles on four stages. But on Sunday morning the giant tent housing the headline acts transforms into a church for festival-goers.
Father Byrne, who began his professional career as a music promoter in Ireland before an accident that almost killed him eventually led to his discerning the call to be a priest, celebrated the Mass in Gaelic and English. Singers from St. Anthony and several other local parishes sang the Celtic Mass setting by Fintan O'Carroll and Chrisopher Walker, and hymns with a connection to Ireland. Dancers from the Celtic Academy of Irish Dance offered a short dance after Communion and Father Bynre, a dancer himself, obliged the crowd with a little step dancing after Mass. Andrew Folfas piped the priest and Deacon Michael Leon in, and 4th Degree Knights of Columbus from the Father BF. Kuhlman Assembly provided an honor guard.
Displaying some Irish fiestiness, Father Byrne began his homily by telling the assembly "if I go over four minutes, you'll have to shout me down." He went a little over… but no one complained.
To see a video of Father David Byrne in Irish Dance, click here