January Family Activities: Teaching the importance of life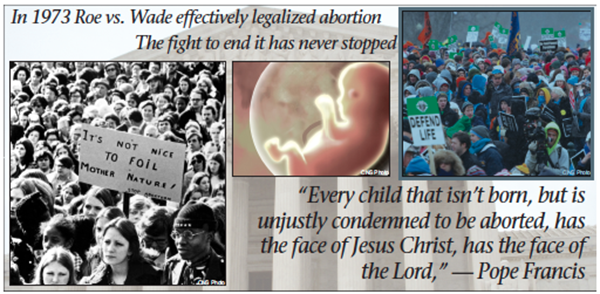 Staff Report
Abortion is a difficult issue to discuss with young children because it confronts a tough reality. Still, teaching children about abortion and ways to support life early are important. Here are some suggested January family activities that focus on life.
Rosary for life
Before you begin the rosary, pray for the unborn and that the Holy Spirit will come upon those women contemplating an abortion. Mediate on the following Joyful Mysteries:
1. Annunciation. Lord Jesus we ask you to be with those women who are frightened at the prospect of having a child. Send the spirit into their hearts with the joy of life. As Mary was told by an angel and somewhat taken aback, let these women have the courage to say yes.
2. Visitation. We must keep an outlook on those women alone who are feeling abandoned, and reach out and help them through their pregnancy. We pray families rally and support those women.
3. Nativity.  We reflect on the joy of birth, the joy of a new child. On that night Christ was born, we remember the difficult conditions, no room at the inn, a manger, and shepherds in the field keeping the night watch. Let us go in haste to those facing challenging decisions.
4. Presentation. Reflect on two strangers, Simeon, and the prophetess Anna. Simeon came into the temple to see this child he had been told about by the spirit. Anna prayed day and night for the redemption of Jerusalem. We pray for the unborn that decisions of abortion are reversed and we share the joy as Simeon and Anna did when they saw the child Jesus.
5. Finding in the temple. We reflect on those women who have lost Christ in their lives. We pray that they find Jesus as his parents did after three days in the temple. We pray that women facing a difficult pregnancy find peace and comfort in Christ's unending love.
Spiritual Adoption
Have your family pray for those babies in danger of abortion. Each night for nine months, pray for this child, perhaps even naming this child. A good night to start this prayer would be on Monday, Jan. 6, 2014, on the traditional feast of the Epiphany, or the twelfth night. Then on Oct. 6 have a small celebration for that child. Perhaps have a baby shower and donate the presents to a local pregnancy center or charity.
Praying for fidelity and chastity.
In Archbishop Dennis M. Schnurr's vocation prayer it says "Bless us with those called to a chaste single life." Set aside an evening to fast and mediate for our young people in the archdiocese for a chaste single life and to experience that freedom of joy. Parents can have frank discussions with their children about leading a chaste life and to think about the joy of waiting until marriage.
Attend Mass on Jan. 22
Go to Mass at your local parish and spend time with the Blessed Sacrament reflecting on the unborn. Pray that our nation turn our eyes to the joy of life and the precious gift of life that God has bestowed on all of us. This is a good day to reach out to all of our children with many "hugs of joy."
This article originally appeared in the January 2014 print edition of The Catholic Telegraph.