Jubilarians 2017: Sisters of Mercy
60 Years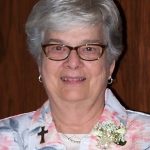 Sister Judith Mary Klei
Sister Judith Mary Klei, a native Cincinnatian, celebrates 60 years as a Sister of Mercy. Sister Judy spent many of her years in the ministry of education as teacher and administrator – sixteen years in elementary education and 37 years in secondary education. After her retirement from Archbishop Moeller, Sister is volunteering at St. Francis de Sales Parish in Walnut Hills – five years as director of RCIA and continuing as moderator of the Young Adults. Sister Judy said that her years in education and continuing educating at the 'parish level' have been her greatest gift from God. It has taught me so much on how to accept all and be present to all on this journey to a greater love of Jesus."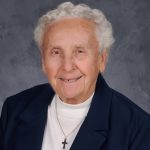 Sister Ann Gorman, RSM (formerly Sister Mary Nicola, RSM)
Sister Ann claims as "home" the parishes of St. Brigid in Xenia, served by the Sisters of Charity, St. Boniface, formerly served by the Sisters of Christian Charity, and St. Mary, both in Piqua, served by the Sisters of Mercy.
Each parish community and the Sisters who served there made a significant impact on her vocation and ministry.
Professionally, Sister Ann has served as an educator for all of her 55 years in ministry, both as a teacher and an administrator. She has ministered at eight elementary schools in Urbana, Dayton, Cincinnati, and Loveland. There were also years at high schools in Piqua, Sidney, Cincinnati, Dayton, and Amarillo TX.
Currently Sister Ann is the associate Administrator at St. Boniface School in Northside Cincinnati, where she is also the Case Manager for the children with special education needs.
50 Years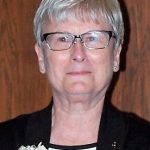 Sister Diane Crume, RSM
Sister Diane graduated from Our Lady of Mercy Academy in Louisville, KY in 1967 and entered the Sisters of Mercy in Cincinnati, Ohio. She then received her RN diploma from St. Mary's School of Nursing in Knoxville, TN in 1973. For over 28 years she ministered as an ER, Medical Surgical, and Operating Room nurse and wellness coach in Mercy Health System. In 2004 Sister Diane received her Ohio massage license and has ministered primarily to elderly clients for the past 13 years.
Sister Mary Aloyse Gerhardstein, RSM
Sister Mary Aloyse Gerhardstein, RSM is a native of Cheviot Ohio who attended St. Martin elementary school. After graduating from Mother of Mercy High School, and entering the Sisters of Mercy she earned her Bachelors in Education from the Athenaeum of Ohio, a Masters in Education from Xavier University and a Bachelors in Music from the College Conservatory of Music, University of Cincinnati.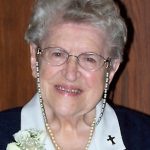 She taught music at her Alma Mater, Mother of Mercy, for 16 years. When the newly established Mercy Montessori Center in Walnut Hills needed a teacher for the older elementary age children, Sister studied the Montessori method of Education at Bergamo, Italy in 1971. She helped establish the upper elementary class at Mercy Montessori in 1972 and the junior high class in 1992. As part of a sabbatical year, SIster Mary Aloyse helped found an Elementary Montessori School in Johannesburg, South Arica in
1983.
Xavier University called her to teach adults how to be Montessori teachers. In addition to education, music has been her passion. She composed many works for singers as well as several historical pageants and a Life of Maria Montessori. Currently retired from teaching she volunteers at Mercy Montessori Center in Walnut Hills and is a Board Member of the Over-the-Rhine Kitchens as well as chief musician for local Mercy celebrations.