Jubilarians 2019: Sisters of Mercy
60 Years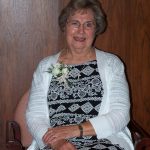 Sister Mary Louise Averbeck, RSM (formerly Sister Mary Laetare)
Sister Mary Lou grew up in St. Martin Parish in Cheviot and attended Mother of Mercy High School. Her years of ministry as a Sister if Mercy have been in the Archdiocese of Cincinnati, teaching junior high students in St. Teresa and Nativity Schools in Cincinnati and serving as principal and teacher in St. Boniface Parish in Piqua. After working in vocation and formation ministry for the Archdiocese and for the Sisters of Mercy, in 1983 she began ministry in Mercy healthcare as a chaplain at Our Lady of Mercy Hospital in Mariemont. Through 36 years in Mercy Health, most at Mercy Hospital Anderson, she has served as chaplain, Spiritual Care and Palliative Care director and Mission Director. A special effort and joy was in the development of Mercy Care Clinic, a free clinic for persons needing care in the Anderson area. Her ring motto, "With joy I give you everything"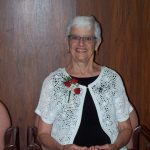 Sister Carren Herring
Sister Carren met the Sisters of Mercy at Nativity School in Pleasant Ridge and entered their community in 1959. Her first assignment was teaching grade 7 at Our Lady of Grace in Lower Price Hill. In rapid succession I went to St. Patrick's, London OH, Our Lady of the Rosary Cincinnati, St. Catherine Toledo and finally landed at St. Mary, Piqua. She began her ministry as an elementary school principal at St. Mary, Urbana and then at Nativity from 1979-84.
She followed a call to Jamaica in 1984 and spent a year there as teacher and principal before returning to St. Mark School in Cincinnati. Following a sabbatical year in 1990-91 Sister Carren became the executive director of the feeder schools to Purcell Marian High School and created staff development programs to integrate the arts and technology into the curriculum from 1991 – 2006. During those she was also part time Co-Director of Mercy Association and regional coordinator of Mercy Volunteer Corps. From 2006 – 2013 she did development work for Nativity Parish. In 2008 she took over the Payee program at Mercy Neighborhood Ministries and continues today along with volunteer work with Nuns on the Bus and the Kennedy Heights Community Council.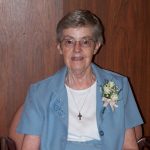 Sister Mary Greta Schmidlin
Sister Mary Greta was born and raised in Cincinnati. She attended St. Martin of Tours Grade School and Mother of Mercy High School and graduated from Mercy in 1959. Sister Mary Greta entered the Sisters of Mercy in September of 1959. She attended Our Lady of Cincinnati College and the University of Cincinnati. Her ministry included teaching at Piqua Catholic High School, McAuley High School, Mother of Mercy High School. In 1987, she became the secretary for Our Lady of Lourdes School. After 48 years in education, she is now in ministry at Mercy Health West Hospital as an initial contact for patients for the Spiritual Care Department and volunteers at the Information Desk.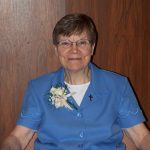 Sister Mary Lisa Steigerwald
Sister Mary Lisa graduated from Mother of Mercy High School in 1959 and entered the Sisters of Mercy that same year. After teaching mostly primary grades in Tennessee and Ohio, she studied at Xavier University and earned a Masters Degree in Montessori Education. She taught at Mercy Montessori in Cincinnati in its beginning days, and later taught Montessori in other schools in Cincinnati.
Since she has retired from teaching, Sister Mary Lisa has enjoyed a variety of ministries. She especially enjoys assisting the elderly residents at McAuley Convent. She is grateful for the many blessings God has bestowed on her during her 60 years as a sister of Mercy.
50 years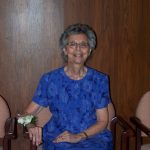 Sister Mary Ann Trotta, RSM
A native of Cincinnati and the daughter of Gino and Florence Trotta, Mary Ann attended Nativity School in Pleasant Ridge, Our Lady of Lourdes School in Western Hills and Mother of Mercy High School in Westwood. Her higher education includes a Bachelor of Arts degree in Elementary Education from Edgecliff College and a Master of Science in Education with a field in Educational Administration from the University of Dayton. Mary Ann received post graduate certification from Xavier University as an Intervention Specialist with emphasis on assisting children with specific learning disabilities and severe behavior handicaps. She has taught students in all grades from Pre-School through Grade Eight at various schools throughout the Archdiocese of Cincinnati. Her early years included being on the staffs of Saint Teresa, Price Hill, Saint Mary, Piqua, Queen of Martyrs, Dayton, Saint Mary, Urbana, and Price Hill Catholic, Cincinnati. From 1989-2005, Mary Ann had the unique experience of being part of a very committed parish and faculty who had a vision of creating an elementary school. The dream was fulfilled in the fashioning of Saint Margaret of York School, Loveland. Through those years, she ministered as principal, educator and a member of the Educational Administrative Team.
Following a sabbatical year, she joined the faculty of Saint Boniface School, Northside where she continues to serve as an Intervention Educator. Since 2006, Mary Ann has also volunteered at Cincinnati Children's Hospital Medical Center in the Intensive Care Unit calming infants who are medically fragile in order to enhance their healing process. As she ministers to them, they gift her with the miracle of life and the ability to be totally aware of the present moment. Mary Ann cherishes these children and this sacred time of stillness and silence. As she rounds the bend in search of her encore career, she waits expectantly for a new dream to be played out in her remaining years…one that will both give God glory and be more than she could ask or imagine!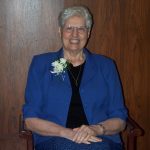 Sister Louise Huitink
Sister Louise, formerly Sister Mary Georgine, entered the Sisters of Mercy after graduating from Mother of Mercy High School in 1959. Her ministry has been with little children teaching primary grades in Nashville and at Nativity and Our Lady of Lourdes in Cincinnati. She received her Masters Degree in special education and served at St. Maurice School for children with special needs in Washington DC area for 7 years. In 1997 she began an 18-year ministry at the Home Program, now Mercy Neighborhood Ministries, in Walnut Hills. in 2015 she moved to Mercy Convent in Nashville where she helps at the Sisters of Mercy retirement home.