Kroger donates $1,000 and food to St. Francis Seraph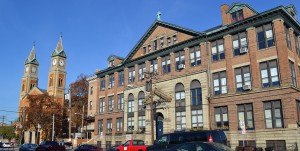 A spokesperson for The Kroger Company confirmed that the company's Manufacturing Human Resources Department, based at the corporate headquarters in Cincinnati, donated $1,000 to families at St. Francis Seraph Catholic School in Over-The-Rhine.
Traci Hooks, a volunteer coordinator at St. Francis Seraph, said the donation was initiated by a former volunteer at the school named Marissa Gleis, who works for Kroger. Hooks said a group of employees from the Manufacturing Human Resources Department also donated Thanksgiving-related food items to school families.
"St. Francis Seraph has (an over 90 percent) poverty rate among our students," Hooks told the CT via email. "We look for donors to help our needy families with Thanksgiving meals and Christmas…This is a great gift to our families and fits our mission of Franciscan charity."
The $1,ooo grant will be used to purchase food for families in need in the St. Francis Seraph school community.
Kroger Public Affairs Manager for the Cincinnati/Dayton Division Patty Leesemann said the company is involved in many hunger relief efforts including its Food from the Heart campaign in collaboration with St. Vincent DePaul and Shared Harvest, as well as Food for Friends, another initiative with Shared Harvest and the Dayton Food Bank. To kick off those campaigns, Kroger donated 17,000 pounds of food. The grocery store chain also has opportunities for customers to make donations at the checkout counter to support the Freestore Foodbank in Cincinnati, Shared Harvest in Butler County and Foodbank in Dayton.
St. Francis Seraph is one of eight schools served by the Catholic Inner-City Schools Education Fund (CISE).