Let your Service Shine!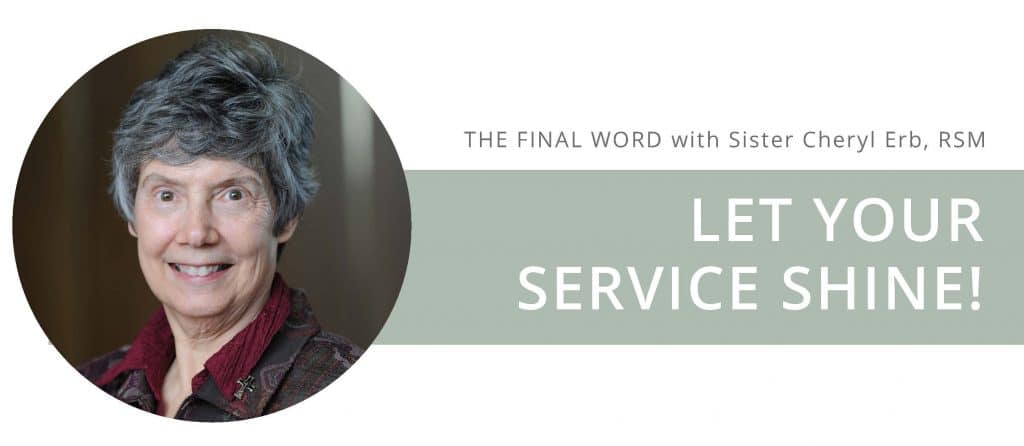 Bicentennials are a wonderful opportunity to reflect on the past and build on the stellar work of many. We walk on the shoulders of religious men and women and lay people who radiated Christ in our communities throughout the years.
As women and men religious gathered to plan their role in the bicentennial of the Archdiocese of Cincinnati, we realized every congregation who traveled to our archdiocese in the 19th Century had the avowed purpose of serving the immigrants of our cities. The 16 congregations who arrived between 1829 and 1887 boarded their sailing vessels or steamships from Europe to settle in our geographical area. They set up schools, hospitals and social service centers to serve the poor.
In 1858, 11 Irish Sisters of Mercy traveled to Cincinnati where they planned to educate and build a hospital – but their plans were derailed by a raging cholera epidemic. They adjusted to the need of the people, converting their living quarters into a "MASH" (Mobile Army Surgical Hospital) unit, where they cared for thousands of the sick. A few years later, during the Civil War, injured soldiers were brought to the sisters for treatment. Despite this and other epidemics and challenges throughout the decades, the sisters still founded schools in the region and a hospital in Hamilton. All the religious congregations experienced these challenges in their early years, but their spirit of service was contagious.
A mantra for all area religious congregations was: "See a need, garner resources and provide solutions through service." In light of history, it's natural for our 21st Century congregations to celebrate the archdiocesan bicentennial by facilitating a day of service alongside Catholics in parishes, schools, agencies and congregations. Together, on October 9, we will radiate love, energy and service throughout our 19 counties and "Let your service shine!"
Many parishes and schools have already planned a service event they will sponsor. We encourage you to get involved. Be part of the solution! You can make a difference! If you feel called to serve and your parish has not planned something, visit www.Cincy200.org. There you will find great service ideas, along with contact names and phone numbers, so you can get involved.
As you participate in our archdiocesan-wide Day of Service, take some photos of your service project and share them on the Cincy 200 website. You will be writing the bicentennial story for future generations and providing a great resource. Let your love, generosity and compassion shine for all to see.
For nearly 200 years the men and women religious of our archdiocese have worked with our lay counterparts to provide quality Catholic education. They have built first- rate hospitals and provided care for the poor.
Women and men religious were here for you then. We are here for you now. We need the wisdom, generosity and compassion of all – lay and vowed religious – to bolster our service and address real needs. Please consider joining us for the Oct. 9 Day of Service. Thank you for the many ways you collaborate with women and men religious to help us continue our ministries. Together, we can radiate care and compassion, create solutions to complex situations and continue to be a positive force across our archdiocese.
SISTER CHERYL ERB, RSM is a Sister of Mercy who taught at McAuley and Mercy High Schools, worked for RENEW International and
served as Mission Director for Bon Secours Mercy Health. She is presently in leadership for the Institute of the Sisters of Mercy in the role of Sister Life Minister
This article appeared in the September edition of The Catholic Telegraph Magazine. For your complimentary subscription, click here.