Longtime soup kitchen volunteer remembered fondly
November 1, 2012
By Eileen Connelly, OSU
Whether he was handing out utensils to guests or cleaning tables at the Over-the-Rhine Kitchen, William "Bill" Kenney always had a smile on his face and kind word for everyone he met. The longtime volunteer at Cincinnati's oldest soup kitchen, who died Sept. 2 at 98, is remembered fondly for his positive attitude and dedication to serving others.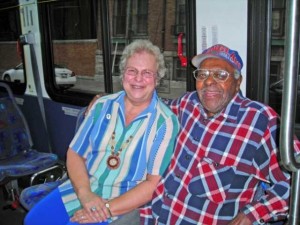 The kitchen was established in January of 1976 after Father Thomas Bokenkotter, a priest of the Archdiocese of Cincinnati, returned from a visit to Dorothy Day's House of Hospitality in New York City. Seeing the poor people lined up for meals, Father Bokenkotter wondered whether anything like it existed in Cincinnati. Upon returning from his trip, he consulted with various local social service agencies who informed him that there was indeed a need for such a program. At the time there was only one such soup kitchen in Cincinnati, which combined a free meal with an obligatory religious service.
Father Bokenkotter felt there was room for another type of program in view of the large number of poor in the Over-the-Rhine area (8,000 people below the poverty level out of a population of some 10,000). He recruited a number of volunteers and with just $700 in the bank, he started serving warm meals in a building on Main Street. At first the meals were cooked in the kitchen at St. Gregory Seminary, where Father Bokenkotter was a professor. It quickly became apparent that the need for such a program was great in the inner city for soon after its opening, hundreds of people lined up daily to get a warm meal. For various reasons, the site had to be moved several times until it found a "home" at 1620 Vine Street, right in the heart of Over-the-Rhine.
Five days a week for more than three decades, Kenney, known as "Mr. Bill," was a fixture there. Each volunteer day, Kenney would take the buss from his home, arriving at the soup kitchen at 9 a.m. to assemble plastic forks and napkins and interact with the other volunteers and staff. As the guests, many of them homeless or suffering from addictions or mental illness, began to arrive, Kenney would sit on a stool at the head of the line, greet them and hand out utensils. His volunteer shift ended with cleaning tables and putting up the chairs after the guests left.
"He always had a smile for people. He always looked for the good in people and was so respectful of everyone," said Sister of Mercy Victoria Vondenberger, who has served on the kitchen's board of directors since 2005 and is director of the archdiocesan Tribunal.
Kenney was born on Nov. 18, 1913, in Paris, Ky., one of 10 children. He completed the eighth grade and served in the U.S. Army during World War II. He later found work as a mechanic at a car dealership and as a laborer on tobacco and horse farms. He retired from his position as a valet in a downtown hotel in 1975.
He wanted to remain active, though, and find a way to give back the community, said Sister Victoria, so he began volunteering at the kitchen. "Obviously, he did more when he was younger," she said. "It was so important to him to stay active and he had a wonderful spirit of service to the community. He was just a delightful man and was able to work at the soup kitchen up until the week before he died."
"This place feels like my home," Kenney said in June, during the kitchen's 35th anniversary gala, held at the Mayerson Jewish Community Center.
Kenney's dedication was a both an inspiration and challenge to the other volunteers and staff at the kitchen, Sister Victoria said. "In our society, people look at the elderly and think their lives are over. If, at 98, Mr. Bill was still volunteering at a soup kitchen, what does that say to the rest of us? He was just an absolutely wonderful man."