Marching into the Future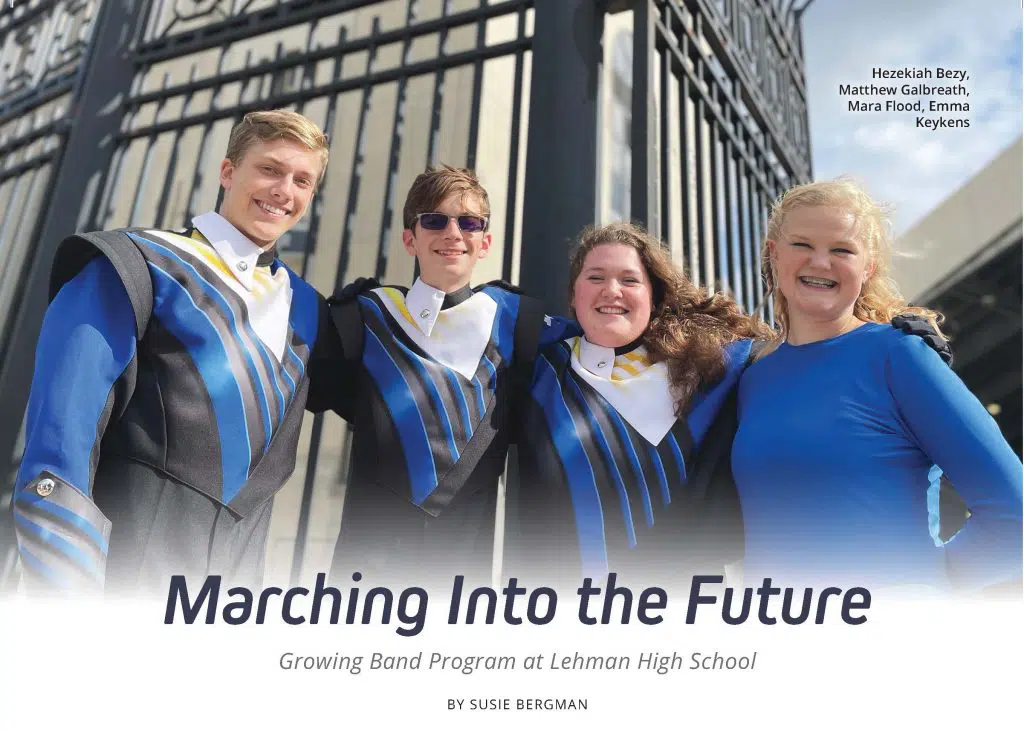 Embarking on a new career often brings challenges, but Kaitie Welch never imagined doing so on the cusp of a global pandemic. Hired June 2020 by Lehman Catholic High School in Sidney, she began her job as band director with a marching band of only 12 active members and a concert band of only eight.
"When I first started, there was so much uncertainty for the students that we just spent a lot of time getting to know each other," said Welch.
She graduated from Miamisburg High School, worked in Cincinnati Public Schools, and now resides in Middletown. Her fiancé, the band director for La Salle High School in Cincinnati, helped her decide to move.
"When I took the position at Lehman, I was still living in Cincinnati and making the long drive," Welch said. "Fall is a crazy time of year for marching band, so if we wanted to have dinner together through the week, there had to be a compromise."
While she admits the drive is still long, Welch enjoys the time it provides to plan and prepare for the day. This includes preparing students for competitions, which restored the school's participation that ended in 2016.
"When the ensemble shrank in size, they stopped participating in competitions. But now the group has doubled in size and we brought back the color guard, so really wanted to introduce this to the students," said Welch.
Under her leadership, the students practice twice a week, perform at Friday evening home football games and attend Saturday competitions. They invested in new uniforms, made by the Dayton- local company Fred J. Miller Inc., that give them a new sense of pride, in part, because they raised the nearly $15,000 needed by themselves through a fundraiser. Welch attributed its success to the students' determination and community's amazing response.
To honor the community, the alumni and 50-year music history at Lehman High School, they chose the competition theme this year of "Something Blue." It's a nod to the school colors – yellow and blue. Songs include "Blue Skies" by Ella Fitzgerald, "I Guess That's Why They Call It the Blues" by Elton John and "Mr. Blue Sky" by Electric Light Orchestra. The complete show and uniforms premiered at this year's homecoming football game.
Welch was most excited about the students' recent new experience, "On October 16, the ensemble travelled to THE Ohio State University Buckeye Invitational and performed on the famous Block O! It was an honor to be chosen and an experience that definitely produced a few band director tears."
Additionally the Lehman Band won third place in Class C and Best Auxiliary (color guard) in the Kettering Classic Invitational and participated in the Lebanon MSBA Competition.
The pride Welch displays for her school, students and the ever-evolving music program is magnetic. She admits that winning competitions and improving ratings is always an objective, but her biggest goal is inclusivity.
"My main goal is to allow students who participate in other activities or sports, who maybe don't have the time to commit to marching band, the opportunity to participate in band as a class. This would involve growing our concert band to 30 students and our marching band to 35 or more; introducing them to new experiences, friendships and encouraging their music development."