Maria Stein exhibit honors Mother Teresa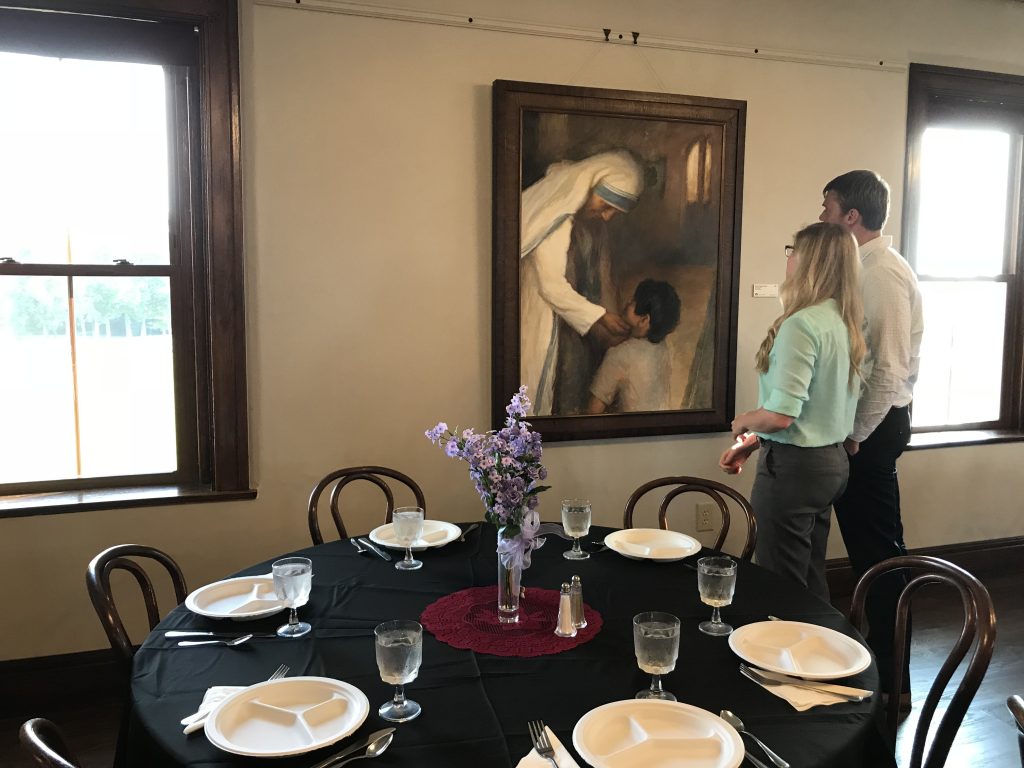 By Sharon Semanie
Mother Teresa of Calcutta continues to be immortalized by fans worldwide. Among those admirers is Ramesh Malhotra, whose Malhotra Collection features artwork of Mother Teresa, as well as other saints and blessed prominently displayed at the Maria Stein Shrine of the Holy Relics through December. The exhibit is housed on the third floor of the newly-renovated Upper Room.
The diminutive nun, canonized on Sept. 4, 2016, is renowned for her compassion and focus on humanity. The Maria Stein exhibit contains several dozen works by internationally-renowned artists who depict the Nobel Peace prize recipient in a series of art medium where she is traditionally attired in her white sari bordered by three blue stripes in honor of the Blessed Mother. Other notables featured include St. Catherine of Bologna, Blessed Padre a Plas, Blessed Sr. Rani Maria, St. John the Baptist and St. Rose of Lima. Various art medium is incorporated into the exhibit including oil on canvas, charcoal, watercolors, Gouache, and pastels along with a sculpture made of stone.
The prestigious art collection comes from the Museum of Spiritual Art in Franklin, which includes original spiritual oil, pastel and watercolor paintings covering a wide range of religions and faiths produced by local and global artists. The museum is the private collection of Ramesh and Chris Malhotra.
Among the distinguished artists whose works are displayed at Maria Stein is Tim Langenderfer of Kettering , whose oil on canvas and charcoal portraits of Mother Teresa are prominently showcased throughout the exhibit. Other international and national artists represented include Gisele Hurtaud of France; Jeff Morrow of Cincinnati; Dave Mueller of northern Kentucky; Chuck Marshall, a New Antioch-Wilmington native; Paul Newton, of Australia; Chandan Pramanik, of India; Dominique Amendola, who has lived in the United States. and abroad; John Leon, of Cincinnati; Patricia Bellerose of Quebec; Sylvie Griselle, of France; and Bijendra Pratap of India.
"The beauty of Mother Teresa is that when she was alive she served the children of India who needed help," said Malhotra. "After her death, she is forever in the future as an immortal soul and will continue to serve as a guiding light for all humanity. We are excited to share this collection of work, highlighting her beauty and devoted compassion to others with the pilgrims and visitors to the Maria Stein Shrine,"
Malhotra, who was born in Lahore, undivided India, suggests "Mother Teresa was and will remain forever a teacher of humanity. Gandhi was the father of India, and Mother Teresa was the mother of India. Ghandi brought freedom to the nation and Mother Teresa brought freedom to individual souls so they could serve humanity."
The successful business entrepreneur, philanthropist and author said his "love" for Mother Teresa is derived from "her teaching me the power of compassion. It is the most powerful weapon that helps me face the problems of humanity as a result of our materialistic society."
Malhotra commissioned the Mother Teresa Collection in 2016 to honor her work in his native India and to preserve her memory for future generations.
The Maria Stein exhibit, which opened in June in conjunction with its eighth annual Art Show & Sale, is available to the public during normal hours on weekdays and weekends, according to Susie Bergman, marketing communications director. Although there is no fee, a freewill offering will be accepted.
"We are delighted to be able to exhibit this incredible collection of religious art at the Shrine," said Shrine President Don Rosenbeck. "The church has played an important role in and has supported the arts for ages. Works of art are one way our spirituality is conveyed. Our hope is many will benefit from viewing this exceptional exhibit."
The Maria Stein Shrine of the Holy Relics, which is located at 2291 St. John's Road, in Maria Stein, provides "faith nourishment and spiritual renewal through opportunities for prayer and pilgrimage and inspiration from the lives of the saints."
People worldwide visit the shrine to explore and enjoy its environment which is rich in holiness and history.
For more event information, visit www.mariasteinshrine.org