Marian Pilgrimage continuing to bear fruit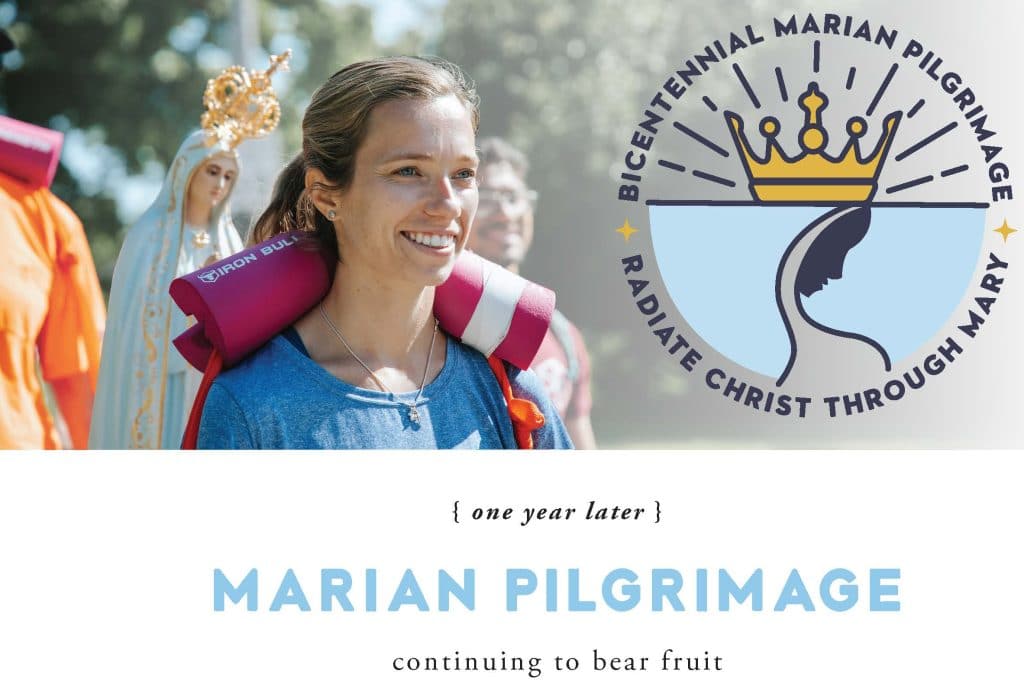 by John Stegeman
Hundreds of people participated in the 2021 Marian Pilgrimage that traveled from Russells Point, OH, to Downtown Cincinnati in celebration of the Archdiocese of Cincinnati's bicentennial. The 300-mile walk over 33 days was more than a public witness of our region's Catholic faith—the sight of the Blessed Virgin moved many hearts along the way.
"We had people run out of their houses," said Sean Ater, Director of the Center for the New Evangelization. "We had a lady stop her car in the middle of the road and fall to her knees praising God. We also had people who would just come with their prayer intentions and who reached out to us later about how their prayers were answered."
One particular moment stood out for Ater.
"We were on a bike trail in Dayton and we had pulled off for lunch," he said. "We set Mary down and sat in the grass to eat lunch. No one was really looking at her, and at one point I looked up and there's this lady that seemed to come out of nowhere just weeping in front of Mary there in the parking lot. She had just seen Mary show up at the right time and she needed prayers. I was able to talk to her and pray with her. You could tell she was so grateful. We had a lot of that."
The pilgrimage concluded on June 19 at the Cathedral Basilica of St. Peter in Chains, then Archbishop Dennis M. Schnurr reconsecrated the Archdiocese of Cincinnati to Jesus through Mary at a special Mass.
The idea for the Marian Pilgrimage arose when the archbishop asked parishes and archdiocesan offices to brainstorm ways to celebrate the bicentennial.
"We brought it to the archbishop, and he loved the idea," Ater said. "As we talked about it to other people, they were very excited about it and decided to jump in as a way to celebrate the bicentennial."
The statue of Mary that was carried along the route is a depiction of Our Lady of Fatima, purchased by the archdiocese during a 2017 pilgrimage to Lourdes and Fatima. That pilgrimage was also a foundational experience for Ater.
"I was on the original Marian pilgrimage to Fatima where we purchased the statue," he said. "I had a personal experience of Mary at Fatima that was kind of life-changing for me. We celebrated Mass and I had this wonderful spiritual experience. That evening I asked out my future wife on a date! Obviously, Fatima is very personal to me in my own life and my own spirituality."
Our Lady's journey in the archdiocese is not over. Parishes may reserve the statue for special prayer services, and the archdiocese included it in youth events and retreats. The statue was also present for Russia and Ukraine's consecration to Our Lady, celebrated by Archbishop Schnurr in conjunction with the pope and bishops across the world on March 25.
Ater envisions the statue helping parishes come together as Families in Beacons of Light by processing between parishes or in shared prayer services. Creative ideas for the statue's use are encouraged. Parishes interested in reserving the pilgrim statue for special events can contact the Center for the New Evangelization at centerforthenewevangelization.org.
This article appeared in the June 2022 edition of The Catholic Telegraph Magazine. For your complimentary subscription, click here.