Mini March for Life Participants Brave Freezing Temperatures
By Gail Finke
Barefoot in the biting wind and spitting snow, she declined to give her name. At first, the college student tried to avoid answering at all. "I'm not doing it to draw attention to myself," she explained. "A friend of mine is marching barefoot in Washington, so I said I could do it for an hour."
An hour in front of Planned Parenthood's Mt. Auburn abortion business, which kills about 2,500 unborn children a year according to the application filed for its last license renewal, was difficult even for those with sturdy boots and wool socks. Muffled against the 32-degree air, about 100 people stood and prayed the rosary at noon on Friday in solidarity with the March for Life in Washington.
Greater Cincinnati Young Adults for Life held the rally, as they have for the past few years. Three seminarians studying at Mount St. Mary's Seminary of the West in Mt. Washington came. Left behind while their classmates went east for the big march, they pitched in to help lead the rosary.
Young mothers came with their strollers. Anna Mitchell Egan, host of the Son Rise Morning Show produced at Sacred Heart Radio in Norwood, came with her daughter Roma. Retirees, people on their lunch breaks, representatives for Ohio Congressman Warren Davidson (who was at the March in Washington with his wife), pro-life speaker Jerusha Klayman-Kingery and her mother Cindy Klayman – all came to pray for an end to abortion and for help for the women who seek it.
"I'm all about adoption," said Klayman-Kingery.. "Adoption, and an end to abortion."
While most attendees were Catholic, Rev. Dr. Ed Bonniwell, pastor of Hillside Bible Church in Loveland, was happy to find some of his church members, Michael and Suzy Connaughton, in the crowd. Jordan Arnold, a member of Southern Baptist Church in Avondale, said he felt welcome though he didn't know the rosary.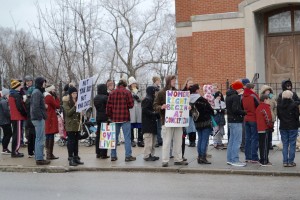 "They should have a beginner's rosary instruction card," he joked, adding that he is grateful to the Catholic Church for leading the way on pro-life issues.
Volunteers passed out plastic rosaries and chemical hand warmers, and the group huddled together to keep out the wind. While many had hoped for a larger attendance because of recent publicity for the March, all agreed that far more drivers than usual at Planned Parenthood rallies sounded their horns and made "thumbs up" gestures from their warm cars.
The only excitement came near the end of the hour, when a woman in a Susan B. Anthony List "I vote prolife" t-shirt felt faint and had to be helped to ground. "I thought maybe you were overcome by the Holy Spirit!" one of the Hillside members joked with her as people bent over to give her crackers and water and cover her with their coats. A few minutes later, when felt well enough to be helped to her car to warm up, he said it again. "I thought maybe you were having a Holy Spirit moment!"
Maybe she was. Maybe they all were.
For information about Greater Cincinnati Young Adults for Life, see their Facebook page.