Mission trips bring high school students closer to God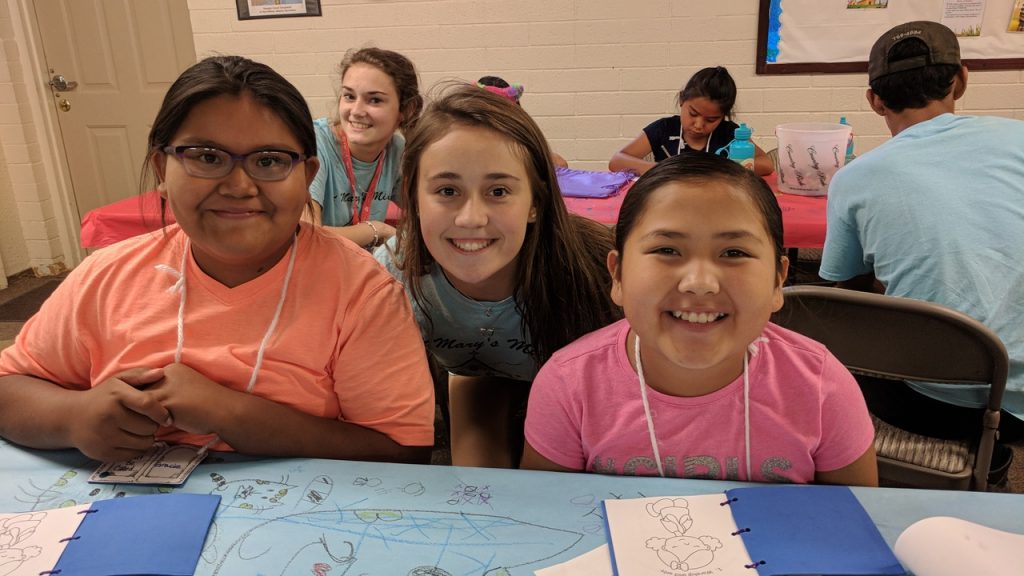 Kylie Schmidt, with her group, huffed up the hill in Navajo country. There are few trees —just an arid expanse colored in various shades of brown and red and dotted by scrub.
"You can look out from the top and see all of Tohatchi and mile upon mile of the Navajo Reservation. It is one of the most beautiful views…so very, very pretty," said Schmidt, a junior at Reading High School. "For me it was a time to get closer to God, a way for me to renew myself because the Native Americans who live down there are very family oriented, very humble with what they have, and they do not wish they had any more," she observed. "They are happy to have enough for themselves and that is an eye opener for people from Cincinnati, where we have everything and are eager to get more."
Schmidt is a member of one of two local Catholic parish youth groups who venture onto the reservation for a 10 or 11 day visit every year or two. Her band hails from Sts. Peter & Paul Parish in Reading and is led by Beth Pettrigrew. The other comes from the Blessed Saints Pastoral Region, comprising St. Bartholomew and St. Vivian Parishes in Springfield Township. It is led by Amy Staubach.
The Navajo Reservation sprawls 17,544,500 acres, occupying parts of northeastern Arizona, southeastern Utah and northwestern New Mexico, where both groups focus their mission trips. It is the largest reservation in the United States with a population of about 350,000.
The Youth and the Leaders
Sean Kent, a member of St. Vivian Parish, said his group worked projects in an area outside of Tohatchi called Coyote Canyon.
Eugene Mitchell, a friend of Staubach's late uncle, Vincent Benson, lives on the reservation and schedules group work projects. Kent, a St. Xavier High School freshman, said his group, including chaperones, completed roofing, painting and landscaping projects for elderly Navajo. At one roofing job, "we met a lady who was really sweet and talked about how God gave her a good life. She thanked us profusely for doing the job. It was just a little house and it wasn't super nice and we saw a lot of poverty. It was surreal to see the different living standards. I was awakened by the fact there are no Dunkin' Donuts or 24-hour Seven-Elevens. They have a few gas stations and vendor.s but not the luxuries we have here. These people have a strong spirit and they are happy just to have each other."
Schmidt was amazed there was but one paved road serving the vast New Mexico part of the reservation. The people, she explained, live off of dirt tracks – many in trailers and some in traditional tribal dwellings called hogans. Houses are miles apart. "Dirt roads lead back to houses, and you might go 10 or 20 miles on dirt. Hogans are octagonal with a dirt floor with no electricity, no running water. There is a gas stove in the middle that vents out the roof, and there's a culture-based process that dictates the trees they can cut down to build a hogan," Schmidt said.
Schmidt's close friend, Savannah Hoover, called her experience "life-changing. Being there really gave us a perspective for the appreciation of the things we have. A lot of things we take for granted, and they are completely fine with the little they have."
Hoover, also a Reading High School junior, said the group oversaw the Summer Bible School and performed some maintenance work on the Catholic mission at Tohatchi, St. Mary's. "The people are very shy, but once you get to know them, they never stop talking! They are so welcoming."
Morgan Le, a Wyoming High School freshman, said, "the biggest difference is the way we live. We had to drive hours (to Gallup, N.M.,) to get to a grocery store. Here in Wyoming (Ohio), there's one just down the street. What a culture change!"
Pettigrew's group is creating a documentary of their visit. "The Navajo appreciate our coming so much. We do a spaghetti dinner where we host the whole (St. Mary) parish. They have about 80 people and 50 came. We try to meet a lot of these people. We go to Mass on Sundays and do whatever we can to meet the needs (of St. Mary's)." Sts. Peter and Paul "twins" with St. Mary's, she said. "I've been doing this for 18 years now and I've taken some 200 people over those years."
About the value of the mission trip Staubach said: "From my perspective, the group sees New Mexico as different. They see that God is bigger than the little world they live in. The Navajo understand the purpose of liturgy better than we do. At Mass they all pray. They have a sense of the sacred and nature and we are insulated from that. They take a bigger view of God, and from that they get a sense of where joy comes from."
The Sisters
Franciscan (Oldenburg) Sisters Pat Bietsch and Marlene Kochert coordinate the many volunteer mission groups who visit Tohatchi. They call these groups indispensible.
Groups regularly come from Ohio, Indiana, New Jersey, Illinois and Pennsylvania.
"Beth brings close to 17 people –adults and youth who oversee the Summer Bible School. Our 30 or so students look forward to it. These young people (from Cincinnati) have a lot of energy for their faith and the children pick that up because some of these students we don't see all year long. Some are not Catholic," said Sister Pat, a native Cincinnatian, who has served the Navajo for more than 30 years. Last year she brought about 30 Navajo youths to Cincinnati to visit Sts. Peter and Paul and stay with parish families. The group also completes needed maintenance tasks at St. Mary's mission church – painting, washing windows, erecting fences, and digging ditches for runoff.
"Amy's group is different," Sister Pat said. "They go right out into the community and work. We put them up at St. Mary Mission Church. The group works out of a small hamlet called Coyote Canyon, where a Quonset hut houses St. Joseph Mission Church."
The Navajo stay on the reservation because "they are tied to the land. This is their home. They are attached and they are extremely family oriented. Even their umbilical cords are buried outside the front door of their house," Sister Pat said. While a large number of Navajo depend on government and other forms of assistance, many also work as teachers, principals, nurses and doctors, she added. Education is important, but many do not attend college for financial or others reasons.
A large number of working Navajo are outstanding professional artisans in weaving, jewelry making and pottery. "Beth's group has been coming out for 18 years for the Bible school," said Sister Marlene, a native of Waynesville, Ind., who has served the Navajo for more than 20 years. When, because of cost, the full youth group contingent can't visit, Pettigrew and a couple of select youth make the journey. "Running Bible school really frees up my planning time and they bring materials and everything they need."
Sister Marlene said: "It's not just the young people who grow (in faith and knowledge) from these visits. The adults are awakened, too. I've taken people out … and opened the back of a Suburban or Tahoe … (and the visitors see the Navajo) feel so blessed over a green pepper, a bag of potatoes, or a loaf of bread."